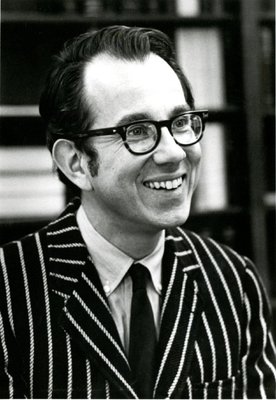 Document Type
Misc. Materials related to Dean Douglass Boshkoff
Publication Citation
Ergo
Abstract
Doug Boshkoff knew immediately when he saw it. The oversized print on display at a Chicago art dealership was the perfect fit. Lichtenstein had used a neutral and cool palette and an angular design that would add a splash to even the dullest wall, and Boshkoff — a man of vision and creativity himself — knew that the Law School's main lobby would serve as the perfect display space for the vivid print.
In September, the Boshkoff family attended the unveiling of "Imperfect Series," a 1988 print by the American pop artist, which hangs just outside the entrance to the Jerome Hall Law Library. The print accentuates renovations to the main lobby that include new paint and more modern furniture.
"It was what he always wanted," said Boshkoff's widow, Ruth. Despite a great fondness for the print, the Boshkoff family — Ruth and their four daughters — knew Doug wouldn't be happy unless the Lichtenstein was on full display for everyone to see.
Recommended Citation
Maurer School of Law - Indiana University, "The gift of art brightens Baier Hall" (2018). Douglass Boshkoff (1971-1972 Acting; 1972-1975). 45.
https://www.repository.law.indiana.edu/boshkoff/45