Preview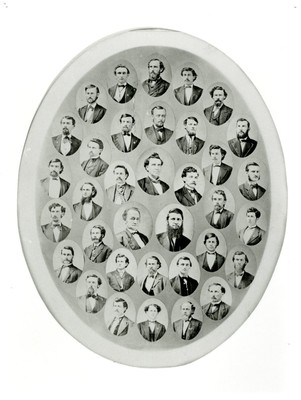 Description
Includes President Cyrus Nutt, Law Professor Samuel Perkins, and Law Professor Baskin Rhoads.
Members of the Class of 1871 are unidentified in this photograph, however, a list from a publication titled Alumni of the Law Department lists the following individuals as 1871 graduates:
John W. Buskirk, William P. Clark, Chester C. Culp, Andrew Day, Samuel Dolton, William H. Dague, Lemuel L. Dilley, William H. Dowdell, Nat. Ward Fitzgerald, Inman H. Fowler, John Graham, Albert L. Grimes, Gaines H. Hazen, Francis B. Hitchcock, James H. Jordan, James B. Kenner, David A. Kochenour, George A. Koons, James E. McCollough, Robert W. Miers, Thomas G. Mahan, George A. Mahan, John L. Pitner, Dennis H. Palmer, David A. Roach, John K. Rhinehart, George N. Ryman, James A. Stevenson, William J. Throop, Joseph P. Throop, William H. Trippett, Argus D. Vanosdol
Photo courtesy of the University Archives.