Preview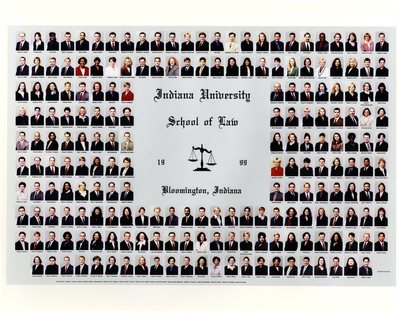 Description
Pictured: James D. Agnew, Yoonhee Ahn, Carla Allen, Mark R. Anderson, Kevin Asbell, Bryan H. Babb, David Bailey, Matthew W. Bailey, Christian A. Baratian, Adam M. Barnes, William L. Barnes Jr., Maggie Baungartner, Bradford W. Bayliff, Tim Beam, Christian C.M. Beams, Lucy B. Bednarek, Cyntha A. Bedrick, Cipirano S. Beredo III, Adam J. Berlin, Scott Bolden, Lindsay T. Boyd, Samantha Brauner, Gina A. Brickley, Beverly A. Bruns, Thomas E. Byrne, Brian G. Cahill, Jacqueline A. Carberry, Brett A. Carlile, Bob Carpenter, Yvonne Carter, Natalie N. Chavis, Abigail A. Clapp, Christine E. Clark-Trevino, Don Cleven, Kevin M. Cloutier, Tricia R. Cobb, Meeks Cockerill, James L. Curtis, Leigia R. Davis. Heather DeCoursey, Brian C. Drumm, Tami A. Earnhart, Sylvia Edgar, Shawna Meyer Eikenberry, Lynne E. Ellis. Jennifer Engle, Kimberly Ferrier, John W. Fischer IV, Carli D. Fish, Julie M. Florida, Pamela S. Flory, Audrey Folloder, William Frayer, Brian Fritts, Apryle A. Fryer, John Fultz, Rose E. Gallagher, DeWayne H. Gofourth, Oren B. Golan, Aaron N. Goldberger, Rebecca W. Gole, Gretchen L. Grosick, Megan E. Groves, Beatrice Guarneschelle-Holt, Schini Gupta, Sandy Hamilton, Jeffrey A. Hammond, Kristofor J. Hammond, Elizabeth Hanna, Kelly M. Hansen, Justin G. Hazlett, Brian Heck, Esther Henry, Henry Hernandez, Jeremy E. Hill, Lisa A. Hillis, Sarah B. Hogan, Patrick C.R. Holmes, Joseph P. Holt Jr., Erica Ann Horne, Karen Lillian Hsu, Brian V. Jansen, Bryan Johnson, DeAndra C. Johnson, Glenn R. Johnson, Julie L. Johnson, Julia A. Jones, John Kedeshian, Christopher M. Keefer, Heather M. Kenney, Heather Kidwell, Eun Sil Kim, Jason D. Kimpel, Stevie A. Kish, Anita A. Kontoh, Patrick A. Koontz, Lean H. Krider, Michael Kulak, Thomas K. Lacy, Nicholas F. Lancaster, Eric G. Lanning, Amy Lee, Camille D. Lee, Damon R. Leichty, David Scott Lessenberry, Jennifer D. Lewis, Azin Lotfi, Danielle Louton, Jeffrey W. Luenz, Sandra L. Macklin, Matthew J. Maldia, Frank E. Marley III, Dena Benham Martin, Whitney D. Mauk, Brad Maurer, Sean Mayberry, Lonene C. Maynard, Shelly K. McBride, Scott T. McClelland, Casey McGovern, Joseph H. Merrick, Kendall Millard, Marco Molina, Jeffrey Monberg, Burke J. Montgomery, Carlos L. Morales, Carolyn L. Morehouse, John O. Moss III, Elaine A. Murphy, John C. Musto, David B. Noble, Jeff Nowak, Michael J. O'Malley, Robert J. Orelup, Kathy L. Osborn, C. Paul Palmer IV, Rozelia S. Park, Victoria J. Parker, Mark Pascu, Gabe Paul, Frederick D. Payne, Scott E. Peck, Anne C. Pfau, John Pierce, Kostas A. Poulakidas, Catherine M. Powell, Michael A. Puzlo, Kyra M. Raimey, Heather A. Rastorfer, Jennifer Rhodes, Craig D. Riegler, Amanda M. Riggs, Troy K. Rivera, Lori A. Robbins, Robert E. Roberts, James B. Robinson, Mathew J. Roth, Rachel A. Rouse, Daniel Roy, Therasia M. Ruffin, Mary I. Russell, Joseph A. Samreta, Julie Sanders, Jason M. Saunders, Matthew C. Schell, Joshua A. Shaptro, Christy A. Short, Daniel L. Siewers, Geoffrey Silver, Kirsten Simmerman-Collier, Talitha D. Simmons, Jenifer J. Snyder, Yazmin Sobh, Beebe Song, Joseph Todd Spurgeon, Rachel L. St. Peter, Andrew R. A. Stewart, David J. Stuehr, Daniel H, Sung, Sandra Sutcliffe, Brain P. Sweeney, Chad J. Sweeney, David L. Theyssen, Jennifer A. Thomas, Amy G. Thompson, Malcolm J. Tuesley, Tricia L. Walter, Daniel C. Walters, Tiffany S. Wiesner, Daniel R. Wilkinson, Lezlie Willis, Janene K. Wilson, Julie P. Wilson, Ximen J. Wolf, Natalie S. Wood, Lisa Woodard, Lawrence Wu, John A. Yared, Suzanne Yashewski, Brian Yeley, Anne Inye Yi, and Jeffrey J. Zuber.
Not Pictured: Arnaldo J. Aponte, Francis L. Belford, Diallo H. Dphrepaulezz, Taylor W. Fox, Gregory J. Garvey, Penny C. Harris, David A. Kras, Judith K. Lason, David M. Marbach, SHelly CHiemi Miyashiro, William A. Plummer, Emily W. Scabacker, James M. Snyder, Rachel A. Soszynski, Jamews W. Tuesle
The Recognition Ceremony Program for the Class of 1999 can be found here.