Preview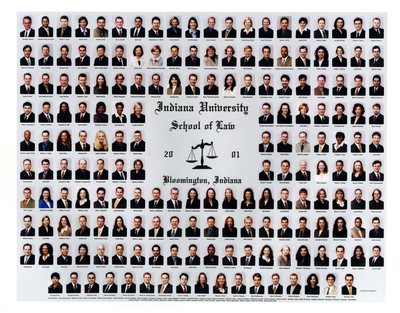 Description
Pictured: Kenneth Adams, Ibrahim Khalil Al Ghani, Adrian S. Allen,Caranit Amir, Samuel Arena, Ian D. Arnold, Jesse Ash, Christopher D. Atkins, Amber Barclay, Heather Beggs, Jason Bennett, Holden Bixler, Tricia Elaine Black, Laura Boeckman, Kevin E. Bolin, Jasna Brblic, Nathan Briggs, Jennifer Brooks, Joseph A. Bruce, George Burke Jr., James W. Caldwell, Ben Caughey, Melissa Certo, Jeff Chadwick, Albert Young Chang, Michael Chapman, Sonia Chen, Alison Margaret Chestovich, Hong-Sik Chung, Nick Cirignano, Pamela Rose Cleary, Suzanne Clifford, Jeff Cockerill, Hamish Cohen, Reuben Cardwell Coleman, Robert Corbett, Paula Cuadros, Emily L. Dawson, David Deal, Michael Demo, Daniel Dooley, Sean Michael Dooley, Greg Ehrhard, Timothy J. Eloe, Sarah Fischer, Emily Fitzgerald, Thomas M. Fleming II, Nathan Foster, Jennifer Fox, Charles E. Frayer, Mary Michelle Freeman, Kristi S. Fulnecky, Sam Gasowski, Christopher Gatto, Joseph D. Grant, Shiv Ghuman, Paul Glaser, Michael Goff, Mark E. Gustafson, William Gutierrez, Philip J. Gutwein II, Charles Gyorkos, Kamilah M. Hall, Aaron Halvas, Tavonna S. Harris, Tina Haywood, Jocelyn Hedlund, Andrew Henningfeld, Eliza McCart Henningfeld, Amy Henry, Timothy J. Hightower, Carmella Hise, Robyn Holtzman, Jason Houdek, Kareem Ajene Howell, Michael J. Hulka, Susan Hutz, Benjamin Ice, Rachel Jefferson, Adam W. Johnson, David Jordan, Matthew Kellam, Todd Keiting, matthew Keppler, Quinn T. Kiley, Chiriga D. King, Daniel P. King, Loren King, Deron Kintner, John Kline, Kenneth R. Kline, Trenten D. Klingerman, D. Casey Kobi, Michael A. Kranisky, Rebecca Kreisher, Robert C. Kruger, Chad Kukelhan, Brian Lally, Thea Langsam, Robert D. Lattas, Sara K. Ledford, Peter Lewandowski, Eric D. Logan, Stephanie Loughlin, Robert A. Lucas, Melissa Luftig, Marc F. Malooley, James Marietta, Kevin Martin, Aaron O. Matthews, John Travis Maurer, Nadine E. McSpadden, Jennifer Medenwald, Marion Miller, Paige Moray, Erin Mundy, Pete Nemeth, Andrew Nill, Katherin Noel, Sherry A. Oswalt, Scott Palmer, Emily Patterson, Robert Penney, Lisa Perez, Kathie A. Perry, Jacob Pond, Ronald Scott Prokes, Linda Ragan, Daniel J. Reich, Todd Alan Richardson, Robert Richey, Ryan Rodgers, Andrew Rutz, Colette Savage, Noah Schafer, Jason Scheele, Dennis S. Schell, Justin Schneider, Jennifer R. Schoen, Nicole M. Schuster, Paul Scott, Mark Scudder, Jeremy Senk, Sara Shade, Yoon Sim, Marnie M. Slavin, Jason E. Smith, Michael Smith, Robert W. Smith, John Snether, Peter Snow, Marc Sokol, Simone Sterling, Jonathan E. Stern, Ian Stewart, Jennifer Strickland, Jami Thompson, Melinda L. Thompson, Jennifer Thornley, Scott B. Tittle, Amy S. Todhunter, Larry Tomlin, Pei-Ling Tong, Thomas Treutler, Alejandro Valle, James Van Buren, James Van Cleave, Derek W. Vander Heide, Christopher Veach, Eric D. Virshbo, Jean Walker, Megan L. Ward, Aaron R. Warnke, Hans Weinburger, John G. Wetherill, Nathan Wollman, Tanya Yarbrough, Jonathan Yates, and Eric M.D. Zion.
Not Pictured: David James Bayt, William W. Benz, Beth Ann Caseman, Shannon Lee Cashion, Dianne Daniels, Scott M. Denardo, Chad A. Dickson, Thomas G. Drennan, Paul J. Early, Margaret R. Emmert, Robert W. Gatto, Douglas A. Green, Kevin W. Greenlee, Thomas J. Haas, Amene M. Husain, Matthew M. Jaimet, Peter R. Johnson, Susan K. Jerns, Jennifer L. King, Susan M. Kinzer, Cynthia K. Maxwell, Margaret B. McDavid, Carolynn J. McLaughlin, Daniel Meadors, Jonathan S. Miller, Kenya L. Newhouse, Mark R. Phillips, Jarrod K. Ralph, Timothy B. Sexton, Aaron M. Silver, Greg A. Small, Sean P. Springman, Nabil D. Streets, Jason W. Tolliver, and Jamie Vander Kolk.
The Recognition Ceremony Program for the Class of 2001 can be found here.