Preview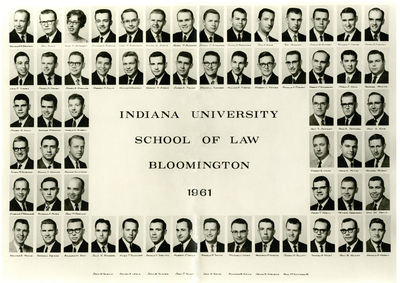 Description
Indiana University School of Law Class of 1961.
Pictured: William V.V. Barteau, John Black, Vivian S. Blodgatt, Richard A Boehning, Carl M. Bornmann, William G. Burns, James P. Buchanan. Joseph T. Bumbleburg, Thomas E. Burchfield, John R. Burke, Ted Bushman, Donald W. Buttary, Richard F. Carter, thomas R. Chapman, Louis F. Cohen, James P. Dewey, James E. Dowling, Robert P. Duvin, William H. Eichorn, Gordon K Embry, James E. Fields, Frank L. Flanigan, William H. Fleece, Robert L. Fonner, Ronald K. Fowler, Robert F. Gonderman, Myron J. hack, George Halkias, James D. GHall, George W. Hamman, Harold A. Harroll, John S. Jackson, John A. Jeffries, Jack , King, James M. Klineman, William C. Kravas, Roland N. Litterst, Robert G. Lowry, Arwin R. McCoy, Michael McCray, Eugene J. McGarvey Jr., Richard A. Mayer, John M. Morrison, Henry T. Noell, Peter L. Osremskey, Don W. Peck, Willian E. Plane, Thomas L. Raisor, Richard W. Ray, Jack H. Rogers, Hugh T. Schulhof, Donald C. Shelton, Robert J. Schula, Ronald H. Smith, Michael L. Stark, Kenneth M. Stroud, James W. Tallant, Samuel R. Wiley, John B. Wilson, and Donald R. Wright
Not Pictured: John R. Glenn, Daniel E. Lewis, John B. Scales, and John T. Scott, Don K. Smith, Richard B. Smith, David S. Stevens, and Paul M. Stutsman Jr.