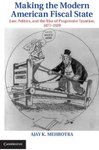 Title
Making the Modern American Fiscal State: Law, Politics, and the Rise of Progressive Taxation, 1877-1929
Description
At the turn of the twentieth century, the US system of public finance underwent a dramatic transformation. The late nineteenth-century regime of indirect, hidden, partisan, and regressive taxes was eclipsed in the early twentieth century by a direct, transparent, professionally administered, and progressive tax system. In Making the American Fiscal State, Ajay K. Mehrotra uncovers the contested roots and paradoxical consequences of this fundamental shift in American tax law and policy. He argues that the move toward a regime of direct and graduated taxation marked the emergence of a new fiscal polity - a new form of statecraft that was guided not simply by the functional need for greater revenue but by broader social concerns about economic justice, civic identity, bureaucratic capacity, and public power. Between the end of Reconstruction and the onset of the Great Depression, the intellectual, legal, and administrative foundations of the modern fiscal state first took shape. This book explains how and why this new fiscal polity came to be.
First comprehensive history of the fundamental transformation in American public finance that has given us our current US tax system.
Explores national, state and local efforts at fundamental tax reform at the turn of the twentieth century.
Uses tax law and policy as a vehicle to understand the historical significance of the Gilded Age and Progressive Era.
ISBN
9781107043923 (hb.), 9781107619739 (pb.), 9781107441088 (ebook)
Publisher
Cambridge University Press
Keywords
Taxation-United States-History, Fiscal policy-United States-History, Taxation-Law and legislation-United States-History, History of Taxation, Cambridge Historical Studies in American Law and Society
Disciplines
Law | Taxation-Federal
Recommended Citation
Mehrotra, Ajay K., "Making the Modern American Fiscal State: Law, Politics, and the Rise of Progressive Taxation, 1877-1929" (2013). Books & Book Chapters by Maurer Faculty. 1.
https://www.repository.law.indiana.edu/facbooks/1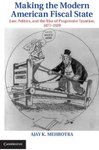 COinS