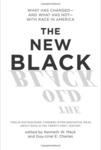 Title
The New Black: What Has Changed and What Has Not with Race in America (edited by Kenneth W. Mack and Guy-Uriel Charles)
Description
The election and reelection of Barack Obama ushered in a litany of controversial perspectives about the contemporary state of American race relations. In this incisive volume, some of the country's most celebrated and original thinkers on race—historians, sociologists, writers, scholars, and cultural critics—reexamine the familiar framework of the civil rights movement with an eye to redirecting our understanding of the politics of race.
Through provocative and insightful essays, The New Black challenges contemporary images of black families, offers a contentious critique of the relevance of presidential politics, transforms ideas about real and perceived political power, defies commonly accepted notions of "blackness," and generally attempts to sketch the new boundaries of debates over race in America.
Bringing a wealth of novel ideas and fresh perspectives to the public discourse, The New Black represents a major effort to address both persistent inequalities and the changing landscape of race in the new century.
Professor Bell's contribution is titled, "The Puzzles of Racial Extremism in a 'post-racial' World."
Professor Fuentes-Rohwer's contribution is titled, "The Racial Metamorphosis of Justice Kennedy and the Future of Civil Rights."
ISBN
9781595586773 (paperback), 9781595587992 (ebook)
Keywords
Civil rights movements-United States-History, African Americans-Civil rights, African Americans-Politics and government, United States-Race Relations
Disciplines
American Politics | Civil Rights and Discrimination | Law | Law and Race | Race and Ethnicity
Recommended Citation
Bell, Jeannine and Fuentes-Rohwer, Luis, "The New Black: What Has Changed and What Has Not with Race in America (edited by Kenneth W. Mack and Guy-Uriel Charles)" (2013). Books by Maurer Faculty. 120.
https://www.repository.law.indiana.edu/facbooks/120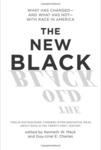 COinS