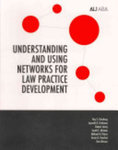 Title
Understanding and Using Networks for Law Practice Development
Description
Law firm networks are organizations consisting of independent law firms. These networks offer member firms the opportunity to increase referrals among members, exchange information with lawyers throughout the world, and better serve clients. The network headquarters typically serves as the central hub that links the members and distributes information and referrals among member firms. Networks offer lawyers and potential clients alternatives to establishing multiple offices or joining global firms. By offering members the opportunity to collaborate with multiple firms while preserving their independence, law firm networks continue to expand.
To provide readers with an overview of different applications of network analysis to law practice and law practice development, the text contains several articles on a variety of topics, including:
- Understanding Law Firm Networks
- Data Visualization, Link Analysis, and Social Network Analysis
- Relationship Forensics
- Satellite Technology and Geospatial Networks
- The Ethics Rules Surrounding Networking
- Joint Law Ventures
To provide an overview of more traditional law firm partnerships, Understanding and Using Networks for Law Practice Development also includes real world example showing the importance of maintaining a lawyer's independent judgment in cases referred by a network. The text also provides an overview of the substantive law of partnerships and limited liability companies.
Professor Krishnan's contribution, chapter 7, is titled, "The Joint Law Venture: A Pilot Survey."
Publisher
American Law Institute (ALI-ABA)
Keywords
Law Firms-Social aspects-United States, Practice of law-Social aspects-United States, Lawyers-Social networks-United States, Social groups-United States, Strategic alliances
Disciplines
Law | Legal Profession
Recommended Citation
Krishnan, Jayanth K.; Ginsburg, Roy S.; Levey, Robert; McLean, Sarah E.; Pierce, Michael K.; Pomfret, Kevin D.; and Wasser, Dan, "Understanding and Using Networks for Law Practice Development" (2011). Books by Maurer Faculty. 121.
https://www.repository.law.indiana.edu/facbooks/121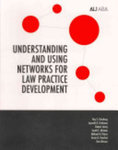 COinS