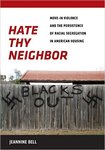 Title
Hate Thy Neighbor: Move-In Violence and the Persistence of Racial Segregation in American Housing
Description
Despite increasing racial tolerance and national diversity, neighborhood segregation remains a very real problem in cities across America. Scholars, government officials, and the general public have long attempted to understand why segregation persists despite efforts to combat it, traditionally focusing on the issue of "white flight," or the idea that white residents will move to other areas if their neighborhood becomes integrated. In Hate Thy Neighbor, Jeannine Bell expands upon these understandings by investigating a little-examined but surprisingly prevalent problem of "move-in violence:" the anti-integration violence directed by white residents at minorities who move into their neighborhoods. Apprehensive about their new neighbors and worried about declining property values, these residents resort to extra-legal violence and intimidation tactics, often using vandalism and verbal harassment to combat what they view as a violation of their territory.
Hate Thy Neighbor is the first work to seriously examine the role violence plays in maintaining housing segregation, illustrating how intimidation and fear are employed to force minorities back into separate neighborhoods and prevent meaningful integration. Drawing on evidence that includes in-depth interviews with ordinary citizens and analysis of Fair Housing Act cases, Bell provides a moving examination of how neighborhood racial violence is enabled today and how it harms not only the victims, but entire communities.
By finally shedding light on this disturbing phenomenon, Hate Thy Neighbor not only enhances our understanding of how prevalent segregation and this type of hate-crime remain, but also offers insightful analysis of a complex mix of remedies that can work to address this difficult problem.
Publisher
New York University
Keywords
Discrimination in housing-United States, Minorities-Housing-United States, Racism-United States, Race, Ethnicity, Hate
Disciplines
Civil Rights and Discrimination | Criminology and Criminal Justice | Law | Race and Ethnicity
Recommended Citation
Bell, Jeannine, "Hate Thy Neighbor: Move-In Violence and the Persistence of Racial Segregation in American Housing" (2013). Books & Book Chapters by Maurer Faculty. 13.
https://www.repository.law.indiana.edu/facbooks/13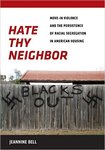 COinS