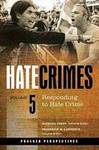 Title
Hate Crimes (edited by Barbara Perry)
Description
This book offers a comprehensive approach to understanding hate crime, its causes, consequences, prevention, and prosecution.
Hate crimes continue to be a pervasive problem in the United States. The murder of Matthew Shepard, the lynching of James Byrd, the murderous rampage of Benjamin Smith, and anti-Muslim violence remind us that incidence of deadly bigotry is not only a recurring chapter in U.S. history, but also a part of our present-day world.
Contrary to common belief, hate mongers who commit crimes are rarely members of the Ku Klux Klan or a skinhead group. In fact, fewer than 5 percent of identifiable offenders are members of organized hate groups. Yet rather than being an individual crime, hate crime represents an assault against all members of stigmatized and marginalized communities. To fully understand the phenomenon of hate crime and reduce its incidence, it is necessary to clearly define the term itself, to examine the victims and the offenders, and to evaluate the consequences and harms of hate crimes.
This comprehensive five-volume set carefully addresses the disturbing variety and incidence of hate crimes, exposing their impacts on the broader realms of crime, punishment, individual communities, and society. The contributing authors and editors pay critical attention to cutting-edge topics such as online hate crimes, hate-based music, anti-Latino hostilities, Islamaphobia, hate crimes in the War on Terror, school-based anti-hate initiatives, and more. The final volume of Hate Crimes provides valuable food for thought on possible legislative, educational, social policy, or community organizational responses to the varied forms of hate crime.
Professor Bell's contribution, in volume 5 (Responding to Hate Crime) is titled "Policing and Surveillance."
Keywords
Offenses against the person, Hate crimes, Violent crimes, Genocide
Disciplines
Civil Rights and Discrimination | Criminal Law | Law | Law Enforcement and Corrections
Recommended Citation
Bell, Jeannine, "Hate Crimes (edited by Barbara Perry)" (2009). Books by Maurer Faculty. 15.
https://www.repository.law.indiana.edu/facbooks/15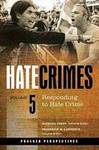 COinS