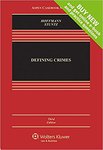 Title
Defining Crimes, 3rd edition
Description
Defining Crimes, by the distinguished author team of William J. Stuntz (late of Harvard) and Joseph L. Hoffmann (Indiana), breaks from the tradition of Model Penal Code-centric casebooks and focuses instead on the rich intellectual and theoretical issues that arise from how crimes actually get defined and applied today by state and federal legislatures, trial and appellate courts, police, prosecutors, defense lawyers, and juries. The innovative approach of Defining Crimes enables the in-depth study of the problems and issues that affect the day-to-day contemporary practice of criminal law.
New Features:
New coverage of the controversial issue of police use of deadly force, which—together with the existing section on "stand your ground" laws—facilitates class discussion of the "Black Lives Matter" movement and the shootings of Trayvon Martin, Michael Brown, and Eric Garner, among others.
New chapter on Gun Crimes, including the Supreme Court's 2016 decision upholding the criminalization of gun ownership for those convicted of domestic violence crimes.
Updated chapter on Federal Criminal Law, including the Court's 2016 Elonis decision.
Updated coverage of criminal cases involving the over-prescription of opoid painkillers and other kinds of prescription medications.
Updated materials on Rape, incorporating coverage of "yes means yes" laws and policies.
New and comprehensive student assessment questions, written by the casebook authors, that will be posted to the companion website.
Keywords
Criminal law--United States, Criminal procedure
Disciplines
Criminal Law | Criminal Procedure | Law
Recommended Citation
Hoffmann, Joseph L. and Stuntz, William J., "Defining Crimes, 3rd edition" (2017). Books & Book Chapters by Maurer Faculty. 167.
https://www.repository.law.indiana.edu/facbooks/167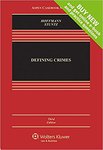 COinS