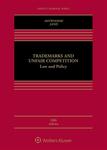 Title
Trademarks and Unfair Competition: Law and Policy, 5th edition
Description
The many strands of trademark and unfair competition doctrine are organized into a coherent conceptual framework consisting of a brief examination of foundational concepts, followed by thorough treatments of the law on (1) the creation of trademark rights; and (2) the scope & enforcement of trademark rights and some related causes of action. The traditional case-and-note format is enhanced by problems that help students understand intricate key topics. Trademarks and Unfair Competition features many issues related to online commerce, such as cybersquatting, keyword advertising, the relationship between trademarks and domain names, and the potential secondary liability of online auction websites such as eBay. International as well as domestic issues are thoroughly explored. Comprehensive coverage of trade dress protection is integrated with issues of word mark protection.
New to the 5th Edition:
the Tam and Brunetti decisions striking down the scandalousness and disparagement bars to registration
extensive coverage of recent case developments on expressive uses of marks in political and artistic contexts
the Belmora decision on well-known marks and developments on extraterritorial application of the Lanham Act.
Key Features:
coherent conceptual framework clearly delineating creation of rights and enforcement of rights issues
traditional case-and-note format, enhanced by problems
thorough coverage of trademark issues arising in online commerce
integrated coverage of international and domestic doctrine
thorough treatment of trade dress protection, integrated with issues of word mark protection
ISBN
9781454871057 (hb), 9781543803310 (ll)
Keywords
Trademarks-Law and legislation-United States, Competition Unfair-United States
Disciplines
Intellectual Property Law | Law
Recommended Citation
Janis, Mark D. and Dinwoodie, Graeme B., "Trademarks and Unfair Competition: Law and Policy, 5th edition" (2018). Books & Book Chapters by Maurer Faculty. 201.
https://www.repository.law.indiana.edu/facbooks/201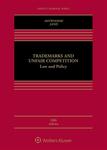 COinS