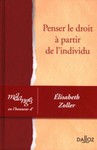 Title
Penser le droit a partir de l'individu: Mélanges en l'honneur d'Élisabeth Zoller
Description
On the occasion of the retirement of Elisabeth Zoller, tribute must be paid to her talent. Author of remarkable books and articles, she has notably taught international law and comparative constitutional law in the law faculties of Nantes, Angers, Strasbourg, Paris 2 and the United States (Universities of Cornell, Rutgers, Tulane and Indiana-Bloomington).

She also acted as counsel and advocate for the United States Federal Government before the International Court of Justice (notably in the 1971 Interpretation and Application of the 1971 Montreal Convention Case arising from the Lockerbie Air Incident).

From Public International Law (Good Faith in Public International Law, Law of Foreign Relations) to US Law (From Nixon to Clinton, Transatlantic Legal Issues, Great Judgments of the United States Supreme Court, US Law, History presidential government in the United States to name a few), not to mention her textbook on Constitutional Law and that of Introduction to Public Law, her books are unavoidable and have marked generations of students and teacher-researchers .

Whether in her books or numerous articles and chronic, institutional creations(The American Law Center has become the Center of Comparative Public Law at Paris II University - Panthéon-Assas), comparative analysis has never left Elisabeth Zoller, who studies other systems first and foremost to get to know her better.

As has been the case since the teaching of public international law (more exactly, from its course in The Hague in 2002 on the "international aspects of constitutional law"), a very particular problem at a time when The focus was on the state: the right must be thought from the individual. Her colleagues, doctoral students, French and foreign friends offer her this book to show her admiration, respect, gratitude and affection.
Disciplines
Comparative and Foreign Law | Constitutional Law | Law
Recommended Citation
Zoller, Elisabeth, "Penser le droit a partir de l'individu: Mélanges en l'honneur d'Élisabeth Zoller" (2018). Books & Book Chapters by Maurer Faculty. 208.
https://www.repository.law.indiana.edu/facbooks/208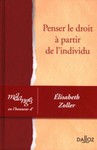 COinS