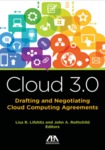 Title
Cloud 3.0: Drafting and Negotiating Cloud Computing Agreements, edited by Lisa R. Lifshitz and John A. Rothchild
Description
Who needs a book on contracting with cloud computing vendors? Aren't all cloud contracts basically commoditized, comprised of "boilerplate" language? And surely no vendor would agree to make any changes to its standard form cloud agreements? If you or your clients are considering moving to the cloud, this guide will provide you with practical guidance and best practices to help you understand, evaluate, negotiate, and draft cloud computing agreements.
The one-sided, standard boilerplate agreements for cloud computing are slowly evolving to meet regulatory and legal environments, and not all cloud agreements are created equal or adequately meet customers' increasingly demanding legal and regulatory requirements. Cloud 3.0: Drafting and Negotiating Effective Cloud Computing Agreements provides practical guidance and best practices to help you understand cloud agreements.
While it is accessible to non-experts, even seasoned technology law veterans will benefit from the authoritative guidance of the authors, who are experts in their fields. The book provides a valuable roadmap to drafting and negotiating effective cloud computing agreements, taking into account the technological, business, and legal considerations of an organization's use of cloud computing technologies.
Cloud 3.0 provides practical information and approaches that will help you create useful cloud computing agreements that meet your clients' business and legal requirements, including:
how to evaluate vendors and recognize agreements that heavily favor the vendor
detailed analysis of service levels in cloud agreements, enabling you to negotiate for guarantees that will serve your clients' needs
warranties, indemnities, and limitations of liability in cloud contracts
best practices for cloud privacy and maintaining security
practical tips for effective cloud negotiations to better arm you to create "win-win" cloud agreements
alternative dispute resolution, litigation strategies, and bankruptcy considered in the context of cloud agreements
mitigating risk through cyberliability insurance
negotiating the exit from a cloud contract and ensuring successful transition, whether to another provider or an in-house solution
Professor Hughes' contribution is Chapter 14, "Above, Beyond, and Around the ABA's 2012 Model Rules of Professional Conduct: Growing On- and Off-shore and Low-tech Challenges for U.S. Lawyers and Law Firms Using Cloud Computing."
Publisher
America Bar Assocation
Keywords
Cloud Computing--Law and legislation, Contracts, Computer Networks--Law and legislation
Disciplines
Banking and Finance Law | Contracts | Internet Law | Law
Recommended Citation
Hughes, Sarah Jane, "Cloud 3.0: Drafting and Negotiating Cloud Computing Agreements, edited by Lisa R. Lifshitz and John A. Rothchild" (2019). Books by Maurer Faculty. 209.
https://www.repository.law.indiana.edu/facbooks/209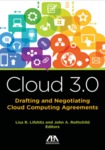 COinS