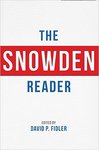 Title
The Snowden Reader (edited by David P. Fidler)
Description
When Edward Snowden began leaking NSA documents in June 2013, his actions sparked impassioned debates about electronic surveillance, national security, and privacy in the digital age. The Snowden Reader looks at Snowden's disclosures and their aftermath. Critical analyses by experts discuss the historical, political, legal, and ethical issues raised by the disclosures. Over forty key documents related to the case are included, with introductory notes explaining their significance: documents leaked by Snowden; responses from the NSA, the Obama administration, and Congress; statements by foreign leaders, their governments, and international organizations; judicial rulings; findings of review committees; and Snowden's own statements. This book provides a valuable introduction and overview for anyone who wants to go beyond the headlines to understand this historic episode.
Edited by Maurer Law Professor David P. Fidler, with a forward by Sumit Ganguly of the Indiana University Department of Political Science. Professor Fidler also wrote the chapter, "U.S. Foreign Policy and the Snowden Leaks.
Professor Fred H. Cate, Maurer School of Law, authored the chapter titled "Edward Snowden and the NSA: Law Policy, and Politics."
ISBN
9780253017314 (hb.), 9780253017376 (pb.), 9780253017383 (e-book)
Publisher
Indiana University Press
Keywords
Snowden, Edward J. Snowden, National Security Agency Leaks, Central Security Service Leaks, Disclosure of information-United States, Whistle blowing-United States, Electronic surveillance-United States, Fred H. Cate, Sumit Ganguly
Disciplines
Law | National Security Law
Recommended Citation
Fidler, David P. and Cate, Fred H., "The Snowden Reader (edited by David P. Fidler)" (2015). Books by Maurer Faculty. 22.
https://www.repository.law.indiana.edu/facbooks/22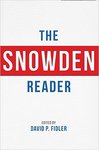 COinS