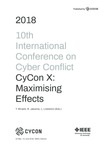 Description
CyCon X is the tenth iteration of the annual International Conference on Cyber Conflict, organised by the NATO Cooperative Cyber Defence Centre of Excellence and taking place in Tallinn from 29 May to 1 June 2018. Over the years, CyCon has become a world-recognised conference addressing cyber conflict and security from the perspectives of technology, strategy, operations, law, and policy. We are always glad to see our friends in Tallinn again – a number of them have been involved with CyCon since its origins a decade ago – and we also welcome newcomers, who can discover the cyber debates and 'white night' walks in Tallinn's Old Town. We are proud to offer them all the opportunity to meet and learn something new from each other. If CyCon has been able to contribute to interdisciplinary understanding of cyber conflict and security throughout the years, then it has achieved its main goal.
CyCon X's core topic is 'Maximising Effects'. Since the very beginning, cyberspace has provided unparalleled opportunities to achieve effects in new and novel ways. Today, cyberspace provides a technological platform and an environment for diverse actors, with both good and bad motivations, to influence everyone and everything. Maximising effects in the cyber realm is important for business, media, governments and military, and even private users. However, how will this be achieved and what will the consequences be? How will AI, machine learning and big data help to maximise effects in cyberspace? How will international law develop in light of the serious effects of state-sponsored operations that may or may not be hard to attribute? The effects generated through cyberspace, including new instabilities and vulnerabilities, will require new policies, legal frameworks and technological solutions to maximise security.
In response to the Call for Papers in June 2017, almost 200 abstracts were submitted in October. After a careful selection and peer review by the Academic Review Committee, this book contains 22 articles whose authors were invited to present at the conference.
Professor Lubkin's contribution is "Cyber Law and Espionage Law as Communicating Vessels," pp. 203-225.
Existing legal literature would have us assume that espionage operations and "below-the-threshold" cyber operations are doctrinally distinct. Whereas one is subject to the scant, amorphous, and under-developed legal framework of espionage law, the other is subject to an emerging, ever-evolving body of legal rules, known cumulatively as cyber law. This dichotomy, however, is erroneous and misleading. In practice, espionage and cyber law function as communicating vessels, and so are better conceived as two elements of a complex system, Information Warfare (IW). This paper therefore first draws attention to the similarities between the practices – the fact that the actors, technologies, and targets are interchangeable, as are the knee-jerk legal reactions of the international community. In light of the convergence between peacetime Low-Intensity Cyber Operations (LICOs) and peacetime Espionage Operations (EOs) the two should be subjected to a single regulatory framework, one which recognizes the role intelligence plays in our public world order and which adopts a contextual and consequential method of inquiry. The paper proceeds in the following order: Part 2 provides a descriptive account of the unique symbiotic relationship between espionage and cyber law, and further explains the reasons for this dynamic. Part 3 places the discussion surrounding this relationship within the broader discourse on IW, making the claim that the convergence between EOs and LICOs, as described in Part 2, could further be explained by an even larger convergence across all the various elements of the informational environment. Parts 2 and 3 then serve as the backdrop for Part 4, which details the attempt of the drafters of the Tallinn Dr. Asaf Lubin Post-Doctoral Cyber Research Fellow Fletcher School of Law and Diplomacy Tufts University Medford, MA, United States 2018 10th International Conference on Cyber Conflict CyCon X: Maximising Effects T. Minárik, R. Jakschis, L. Lindström (Eds.) 2018 © NATO CCD COE Publications, Tallinn Permission to make digital or hard copies of this publication for internal use within NATO and for personal or educational use when for non-profit or non-commercial purposes is granted providing that copies bear this notice and a full citation on the first page. Any other reproduction or transmission requires prior written permission by NATO CCD COE. 204 1. INTRODUCTION Here is a story in two parts. In Part I, the Defense Minister for the Republic of Scamdinavia is honey-trapped by an attractive showgirl. During the course of their secret affair, the showgirl introduces the Minister to a senior naval attaché from the Embassy of Cyberia. The Minister, who quickly befriends the attaché, invites the latter to visit his home. Upon arrival, the attaché creates a diversion and seizes the opportunity to enter the Minister's private office, placing a pen-shaped recording device on his desk and photographing top-secret documents pertaining to the Department's security contracts and research spending. As a result, a number of topsecret Department of Defense projects are jeopardized, and the Minister is forced to resign.1 The second part begins with a series of phishing emails, sent to a number of major corporations across Scamdinavia, by a private hacking group with support and direction from Cyberia's central intelligence agency. The emails contain a trojan downloader. Within an eight-month period, roughly 50,000 computers are infected by the malicious code. Exploiting zero-day vulnerabilities in Microsoft XML Core Services, the malware begins modifying Windows registries, poisoning local DNS caches, disabling antivirus programs, and sequencing certain information harvesting and hard disk wiping processes. As a result of the attack, a number of financial institutions in Scamdinavia are unable to provide services and take weeks to fully restore functionality, causing significant economic losses. To make matters worse, the 1 This hypothetical is loosely based on one of the biggest spy scandals and political controversies of the Cold War era, the 1961 Profumo Affair. At the centre of the public blunder stood John Profumo, then Secretary of State for War, who was discovered to have had a sexual affair with model and showgirl Christine Keeler. Keeler was also romantically involved with Evgenii Ivanov, a senior naval attaché at the Soviet Embassy and an officer of the Soviets' Main Intelligence Directorate. At Keeler's invitation, Profumo and Ivanov met and soon became friends. Relying on his intimate access to Profumo's home and office, Ivanov was able to photograph highly classified documents pertaining to allied contingency plans for the Cold War defense of Berlin, as well top-secret specifications of US spy planes and nuclear weapons. Secretary Profumo initially denied the allegations of impropriety raised against him, but he eventually was forced to resign from his post, a fact that played a role in hastening the end of Harold Macmillan's term as Prime Minister. For further reading see JONATHAN HASLAM, NEAR AND DISTANT NEIGHBORS: A NEW HISTORY OF SOVIET INTELLIGENCE, 207-209 (2015); Leon Watson, I Did Betray My Country: Fifty Years After Profumo's Resignation, Christine Keeler Confesses She Passed Secrets to Russians, DAILY MAIL (9 June 2013), available at http://goo.gl/kPyXQT. Manual 2.0 to compartmentalize espionage law and cyber law, and the deficits of their approach. The paper concludes by proposing an alternative holistic understanding of espionage law, grounded in general principles of law, which is more practically transferable to the cyber realm.
ISBN
9789949990429 (print), 9789949990436 (.pdf)
Publisher
NATO Cooperative Cyber Defence Centre of Excellence
Keywords
Cyber law, Cyber Security, low-intensity cyber operations, peacetime espionage operations
Disciplines
Information Security | International Law | Internet Law | Law | Physical Sciences and Mathematics | Science and Technology Law
Recommended Citation
Lubin, Asaf, "10th International Conference on Cyber Conflict CyCon X: Maximising Effects, edited by T. Minárik, R. Jakschis, and L. Lindström" (2018). Books by Maurer Faculty. 220.
https://www.repository.law.indiana.edu/facbooks/220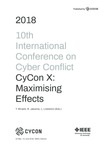 COinS