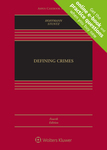 Title
Defining Crimes, 4th editon
Description
Defining Crimes, by the distinguished author team of Joseph L. Hoffmann (Indiana) and William J. Stuntz (late of Harvard), breaks from the tradition of Model Penal Code-centric casebooks and focuses instead on the rich intellectual and theoretical issues that arise from how crimes actually get defined and applied today by state and federal legislatures, trial and appellate courts, police, prosecutors, defense lawyers, and juries. The innovative approach of Defining Crimes enables the in-depth study of the problems and issues that affect the day-to-day contemporary practice of criminal law.
New to the 4th edition:
Three online chapters: Gun Crimes (formerly Chapter 8), Hate Crimes, and Crimmigration
New section about the crime of receiving stolen property in Chapter 5 (Property Crimes)
Principal case—U.S. v. Alvarez—about conspiracy in Chapter 7 (Inchoate Crimes and Accomplice Liability)
New section about consent in Chapter 10 (Defenses), discussing the consent defense to crimes other than rape and sexual assault
Notes discussing several prominent recent cases, including those involving Tamir Rice (2014), Brock Turner (2015), Amber Guyger (2018), Michael Drejka (2018), Michelle Carter (Mass. S.Ct. 2019), and George Floyd (2020)Extended excerpt from Kahler v. Kansas in Chapter 10 (Defenses), in which the Supreme Court upheld Kansas's limited version of the insanity defense against a due process challenge, and notes about the Court's recent decisions in Rehaif v. United States and Kelly v. United States
Notes discussing recent constitutional challenges to the use of criminal law against persons experiencing homelessness.
ISBN
9781543826357 (hb.), 9781543835342 (ebook)
Keywords
Property Crimes, Drug Crimes, Crimes of Sex and Sexual Violence, Model Penal Code
Disciplines
Criminal Law | Law
Recommended Citation
Hoffmann, Joseph L. and Stuntz, William J., "Defining Crimes, 4th editon" (2021). Books & Book Chapters by Maurer Faculty. 239.
https://www.repository.law.indiana.edu/facbooks/239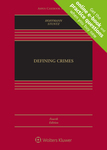 COinS