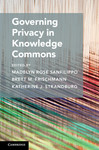 Title
Pooling Mental Health Data with Chatbots
Description
CHAPTER ABSTRACT: Drawing upon the GKC framework, this chapter presents an ethnographic study of Woebot – a therapy chatbot designed to administer a form of cognitive behavioral therapy ("CBT"). Section 3.1 explains the methodology of this case study. Section 3.2 describes the background contexts that relate to anxiety as a public health problem. These include the nature of anxiety and historical approaches to diagnosing and treating it, the ascendency of e-Mental Health therapy provided through apps, and relevant laws and regulations. Section 3.3 describes how Woebot was developed and what goals its designers pursued. Section 3.4 describes the kinds of information that users share with Woebot. Section 3.5 describes how the designers of the system seek to manage this information in a way that benefits users without disrupting their privacy.
Publisher
Cambridge University Press
Keywords
GKC framework, Woebot, CBT, Cognitive behavioral therapy, e-Mental Health therapy, Privacy, Secrecy-Law and legislation, Data protection-Law and legislation, Information networks-Law and legislation, Information commons, Knowledge management.
Disciplines
Health Law and Policy | Law | Privacy Law
Recommended Citation
Mattioli, Michael, "Pooling Mental Health Data with Chatbots" (2021). Books & Book Chapters by Maurer Faculty. 241.
https://www.repository.law.indiana.edu/facbooks/241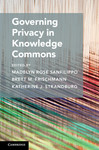 COinS