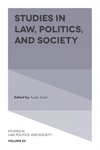 Title
Lack of Punishment Doesn't Fit the Crime: America's Tepid Response to Bias-Motivated Crime
Description
Professor Bell's contribution is Chapter 2, in volume 85 of this irregular series, pp. 29-48.
VOLUME ABSTRACT:
Austin Sarat (ed.) Studies in Law, Politics, and Society (Bingley, UK: Emerald Publishing, 2021). Volume 85.
Built on contributions from an interdisciplinary and expert collection of scholars, topics covered in this volume include the patterns of death penalty bill introductions across all active death penalty states in the USA from 1999 to 2018 (the so-called 'era of abolition'); the myriad factors contributing to America's limited police and persecutorial response to bias-motivated hate crimes; the complex ways in which the Batman and Joker graphic novels legitimize and challenge the countersubversive politics of American law and order through their portrayal of vigilante justice; the role of social media companies in the regulation of online hate speech; and a socio-legal analysis of gender-based victimization, misogyny and the 'hate crime paradigm' in England and Wales. Through its valuable contribution to our understanding of the nexus between hatred and the law, this volume is essential reading for legal scholars worldwide.
Publisher
Emerald Publishing Ltd.
Keywords
Punishment, Crime, Bias-motivated
Disciplines
Criminal Law | Law
Recommended Citation
Bell, Jeannine, "Lack of Punishment Doesn't Fit the Crime: America's Tepid Response to Bias-Motivated Crime" (2021). Books & Book Chapters by Maurer Faculty. 242.
https://www.repository.law.indiana.edu/facbooks/242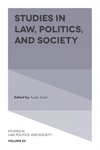 COinS