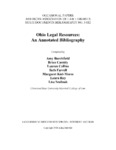 Title
State Documents Bibliography: Ohio
Description
This bibliography is a revised and updated version of the 1986 publication, STATE DOCUMENTS BIBLIOGRAPHY: OHIO, compiled by Christine Alice Corcos. As with the earlier publication, this bibliography was prepared for the American Association of Law Libraries' Government Document Special Interest Section series, State Bibliographies. The series is published in partnership with William S. Hein & Co., and is available both in print and electronically.
The purpose of this bibliography is to provide a starting place for Ohio legal research. The bibliography covers Ohio primary law sources: the Constitution, legislative, executive and judicial branch materials, and local government law. A selection of Ohio's many practice treatises, form books, journals, and other analytical materials are covered in the section on secondary sources. Law libraries and archives are listed in the final section.
Free online access to the materials in this bibliography is noted where such access is available and official or accurate. Additionally, Westlaw, Lexis, Bloomberg Law and other database access is noted where applicable. Print materials are listed throughout the bibliography.
Publisher
American Association of Law Libraries: Government Documents Special Interest Section
Keywords
Ohio Legal Research, Ohio Legal Resources, Ohio Legal Documents
Disciplines
Law | Law Librarianship | Legal Writing and Research
Recommended Citation
Kiel-Morse, Maggie; Brchfield, Amy; Cassidy, Brian; Collins, Lauren; Farrell, Beth; Ray, Laura; and Smilnak, Lisa, "State Documents Bibliography: Ohio" (2018). Books & Book Chapters by Maurer Faculty. 247.
https://www.repository.law.indiana.edu/facbooks/247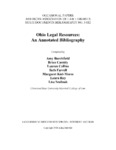 COinS