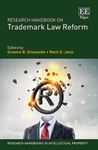 Title
Research Handbook on Trademark Law Reform
Description
This follow-up to Graeme B. Dinwoodie and Mark D. Janis's successful book Trademark Law and Theory examines reform of trademark law from a number of perspectives and across many jurisdictions. In so doing, it analyses the most important current and future issues in the field, both providing normative frameworks for the development of trademark law and concrete proposals for reform.
This Research Handbook is organized into three thematic parts discussing different areas of reform: the trademark registration process; subject matter boundaries and trademark protectability; and trademark scope and enforcement. Leading trademark law scholars from across the globe investigate important topics such as intermediary liability, trademark protection for product design, conceptions of the hypothetical "average consumer", and trademark depletion and congestion.
Scholars and students of intellectual property law will find the provocative and insightful thinking in this Research Handbook stimulating and valuable. The practical suggestions for future reform will also be of interest to trademark lawyers, policymakers, brand managers and other marketing professionals.
ISBN
9781785366208 (hb.), 9781785366215 (ebook)
Publisher
Edward Elgar Publishing
Keywords
Trademark law, law reform, The Drivers of Trademark Law Reform: Perspectives from the Academy
Disciplines
Intellectual Property Law | Law
Recommended Citation
Janis, Mark D. and Dinwoodie, Graeme B., "Research Handbook on Trademark Law Reform" (2021). Books & Book Chapters by Maurer Faculty. 258.
https://www.repository.law.indiana.edu/facbooks/258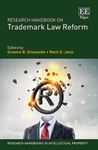 COinS