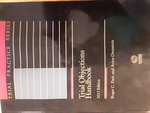 Title
Trial Objections Handbook
Description
Trial Objections Handbook is the only resource you need to make or defend every possible evidentiary objection. You'll get clear explanations of all 109 objections commonly used in civil and criminal court, as well as each objection's basis in law. Your objections will be timely, effective, and unshakable, because Trial Objections Handbook covers how to:
Instantly recognize improper evidence and respond appropriately with a correctly phrased, well-researched objection
Reduce your opponent's opportunities to object by asking questions that will withstand any attack
A quick-reference guide is included that provides a shorthand version of information from the main book for easy use in court.
Publisher
Thomson Reuters
Keywords
Trails, objections, relevance, Hearsay Rule, evidence, witnesses
Disciplines
Law | Litigation
Recommended Citation
Orenstein, Aviva and Park, Roger C., "Trial Objections Handbook" (2017). Books & Book Chapters by Maurer Faculty. 267.
https://www.repository.law.indiana.edu/facbooks/267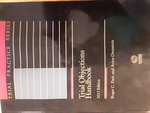 COinS