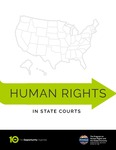 Description
Human rights are among society's most powerful ideals. The notion that all people have rights, simply by virtue of their humanity, has sparked new nations, inspired countless freedom movements, and transformed the relationship between people and their governments in places big and small around the globe. The founders of our country declared that we are all created equal and endowed with certain inalienable rights, and that opinions of other nations are entitled to "decent respect." In the aftermath of the Holocaust and World War II, the United States helped craft the Universal Declaration of Human Rights (UDHR) and the modern international human rights system. Throughout our history, the concept of human rights has been central to our nation's struggles to achieve equality and justice for all.
Now, more than ever, domestic protection of human rights norms will be crucial as the social justice community braces itself for uncertainty following threats to widely accepted human rights norms. Courts continue to be a venue for human rights advocacy and to secure and protect fundamental rights, equal justice, and human dignity. State courts are of particular importance because they often consider economic, social, and cultural rights, and in interpreting state law they have the independence to recognize a broader range of rights than federal courts. In addition, state courts may be called on to interpret and apply international treaties, including human rights treaties.
Recognizing this important aspect of the implementation of human rights law in the United States, this report updates our 2014 report, which details the ways in which state courts have considered and interpreted human rights. This report is intended for public interest lawyers, state court litigators, and judges, and also for state and municipal policymakers interested in integrating compliance with international human rights law into their domestic policies.
Litigants have continued to make arguments based on international human rights in state courts since the last version of this report was published in 2014. As we noted in the 2014 report, many of these arguments have been cursorily dismissed, with a few courts and individual judges staking out their opposition to the application of international human rights law. However, some state courts have considered and affirmatively used international human rights law as persuasive authority for the interpretation of state constitutions, statutes, and common law. Further, individual judges regularly draw on human rights norms in concurring or dissenting opinions. This updated publication is a supplement to the 2014 report and focuses on cases that have been decided since that report was decided.
Publisher
The Opportunity Agenda and the Program on Human Rights in the Global Economy
Keywords
Human Rights, State Courts, Courts
Disciplines
Courts | Human Rights Law | Law
Recommended Citation
Thusi, India and Carter, Robert L., "Human Rights in State Courts" (2017). Books & Book Chapters by Maurer Faculty. 276.
https://www.repository.law.indiana.edu/facbooks/276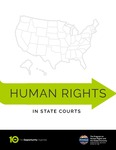 Included in
COinS