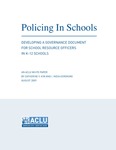 Description
This White Paper argues that a formal governance document is necessary to ensure that law enforcement, school officials, and the communities they serve have a shared understanding of the goals of the SRO program, and that these officers receive the necessary support and training prior to their deployment.6 Absent specific guidelines, SROs may not have a clear understanding of their role within the larger educational context or the rights and needs of the children they are intended to serve; they may inadvertently, and indeed counterproductively, create an adversarial environment that pushes students, particularly at-risk students, out of school rather than engaging them in a positive educational environment. The reputation of law enforcement agencies, the climate of the schools, and, most important, the educational achievement and rights of public school students, suffer as a result. This White Paper identifies specific areas of concern to be addressed in a governance document for SRO programs. In the case of districts that contract with local police departments, these provisions should be set forth in a Memorandum of Understanding; in the case of districts that employ their own police force, they should be set forth in another appropriate format. In either case, the governance document should include language that:
Distinguishes between disciplinary misconduct to be handled by school officials and criminal offenses to be handled by law enforcement;
Respects the rights of children in school;
Ensures transparency and accountability;
Defines the role of SROs within the context of the educational mission of schools;
Provides minimum training requirements; and
Promotes non-punitive approaches to student behavior.
Publisher
American Civil Liberties Union
Keywords
Police, Schools, School Resource Officer
Disciplines
Education Law | Juvenile Law | Law | Law Enforcement and Corrections
Recommended Citation
Thusi, India Geronimo and Kim, Catherine Y., "Policing in Schools: Developing a Governance Document for School Resource Officers in K-12 Schools" (2009). Books & Book Chapters by Maurer Faculty. 277.
https://www.repository.law.indiana.edu/facbooks/277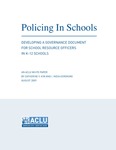 COinS