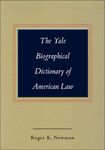 The Yale Biographical Dictionary of American Law (edited by Roger K. Newman)
Full bibliographic details available here.
Copy available in the Jerome Hall Law Library, Reference KF 353 .Y35 2009
Description
This book is the first to gather in a single volume concise biographies of the most eminent men and women in the history of American law. Encompassing a wide range of individuals who have devised, replenished, expounded, and explained law, The Yale Biographical Dictionary of American Law presents succinct and lively entries devoted to more than 700 subjects selected for their significant and lasting influence on American law.
Casting a wide net, editor Roger K. Newman includes individuals from around the country, from colonial times to the present, encompassing the spectrum of ideologies from left-wing to right, and including a diversity of racial, ethnic, and religious groups. Entries are devoted to the living and dead, the famous and infamous, many who upheld the law and some who broke it. Supreme Court justices, private practice lawyers, presidents, professors, journalists, philosophers, novelists, prosecutors, and others—the individuals in the volume are as diverse as the nation itself.
Entries written by close to 600 expert contributors outline basic biographical facts on their subjects, offer well-chosen anecdotes and incidents to reveal accomplishments, and include brief bibliographies. Readers will turn to this dictionary as an authoritative and useful resource, but they will also discover a volume that delights and entertains.
Professor Conrad's contribution is a profile of James Wilson, pp. 594-595.
This paper has been withdrawn.