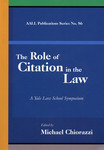 Description
Ashley Ahlbrand's contribution to this volume is "Capturing Impact: Telling the Story of Your Scholarship Beyond the Citation Count."
When we conduct research, what is our end goal? Who is our audience? Since the mid-20th century, with the development, first, of journal citation indexes, then journal impact factors, then journal citation metrics for individuals, academia has seen increased pressure to publish and be cited in journals within one 's discipline. These citation metrics are used to compare schools and to evaluate scholars for promotion and tenure, for grant consideration, and for bestowing other awards and honors. Discipline-specific journal citations tend to be the easiest to measure, looking to a major scholarship database, such as Web of Science or HeinOnline. Yet as critics of these measures have shown, they are woefully incomplete. To set high stakes on such an inaccurate number and call it "scholarly impact" stands to devalue all the other forms that scholarship can take. This article seeks to address that misvaluation, first by surveying the history and reasoning behind these citation counts; then examining the varied forms and formats scholarship can take; and ending with a discussion of other measures, tools, and strategies for painting a more holistic picture of scholarly impact.
Publisher
William S. Hein & Co., Inc.
Keywords
Citation, AALL Publications Series, Yale Law School, Scholarly Impact, Citation Counts
Disciplines
Law | Law Librarianship | Legal Education | Legal Writing and Research | Scholarly Communication | Scholarly Publishing
Recommended Citation
Ahlbrand, Ashley A., ""Capturing Impact: Telling the Story of Your Scholarship Beyond the Citation Count"" (2022). Books & Book Chapters by Maurer Faculty. 304.
https://www.repository.law.indiana.edu/facbooks/304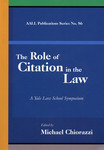 COinS