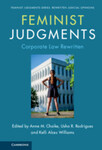 Title
"U.S. v. Chestman, 947 F.2d 551 (2d Cir., 1991): Commentary"
Description
Corporate law has traditionally assumed that men organize business, men profit from it, and men bring cases in front of male judges when disputes arise. It overlooks or forgets that women are dealmakers, shareholders, stakeholders, and businesspeople too. This lack of inclusivity in corporate law has profound effects on all of society, not only on women's lives and livelihoods. This volume takes up the challenge to imagine how corporate law might look if we valued not only women and other marginalized groups, but also a feminist perspective emphasizing the importance of power dynamics, equity, community, and diversity in corporate law. Prominent lawyers and legal scholars rewrite foundational corporate law cases, and also provide accompanying commentary that situates each opinion in context, explains the feminist theories applied, and explores the impact the rewritten opinion might have had on the development of corporate law, business, and society.
Retells corporate law from a feminist perspective
Broadens the reach of feminist discourse to corporate law
Urges executive leaders and businesspeople toward more equitable decision-making
Includes the chapter, "U.S. v. Chestman, 947 F.2d 551 (2d Cir., 1991): Commentary" by Maurer Professor Donna Nagy.
ISBN
9781316516768 (hb.), 9781009015295 (pb.), 9781009035538 (ebook)
Publisher
Cambridge University Press
Keywords
Insider trading, fraud, fiduciary relationship, fiduciary status
Disciplines
Antitrust and Trade Regulation | Law | Securities Law
Recommended Citation
Nagy, Donna M., ""U.S. v. Chestman, 947 F.2d 551 (2d Cir., 1991): Commentary"" (2022). Books & Book Chapters by Maurer Faculty. 310.
https://www.repository.law.indiana.edu/facbooks/310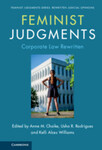 COinS