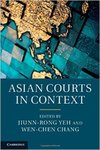 Title
Asian Courts in Context (edited by Jiunn-rong Yeh and Wen-Chen)
Description
The rise of Asia in global political and economic developments has been facilitated in part by a profound transformation of Asian courts. This book provides the most up-to-date and comprehensive analysis of these courts, explaining how their structures differ from courts in the West and how they have been shaped by the current challenges facing Asia. Contributors from across the continent analyze fourteen selected Asian jurisdictions representing varying degrees of development: Japan, Korea, Taiwan, India, Indonesia, Mongolia, the Philippines, Hong Kong, Singapore, Bangladesh, Malaysia, Thailand, China and Vietnam. Setting the courts of each region in the context of their country's economic, political, and social dynamics, this book shows how and why Asian courts have undergone such profound transformations in recent years and predicts the future trajectories of tradition, transition and globalization to suggest the challenges and developments that lie ahead.
- The first book in English to provide a comprehensive overview of Asian courts in the context of current global and regional developments.
- Reveals the impact of democratic transitions, economic development, and judicialization upon the changing functions of Asian courts.
- Analyzes the roles of Asian courts in judicial systems, covering topics including dispute resolution, judicial appointments, and judicial independence.
Professor Krishnan's contribution, chapter 7, is titled "Legitimacy of Courts and the Dilemma of their Proliferation: the Significance of Judicial Power in India."
ISBN
9781107066083 (hb.), 9781107673977 (pb.), 9781107588813 (ebook)
Publisher
Cambridge University Press
Keywords
Courts-East Asia, Courts-South Asia, Courts-Southeast Asia
Disciplines
Comparative and Foreign Law | Courts | Law
Recommended Citation
Krishnan, Jayanth K., "Asian Courts in Context (edited by Jiunn-rong Yeh and Wen-Chen)" (2014). Books by Maurer Faculty. 45.
https://www.repository.law.indiana.edu/facbooks/45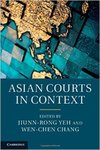 COinS