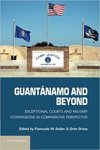 Title
Guantánamo and Beyond : Exceptional Courts and Military Commissions in Comparative Perspective (edited by Fionnuala Ní Aoláin and Oren Gross)
Description
The Military Commissions scheme established by President George W. Bush in November 2001 has garnered considerable national and international controversy. In parallel with the detention facilities at Guantánamo Bay, Cuba, the creation of military courts has focused significant global attention on the use of such courts as a mechanism to process and try persons suspected of committing terrorist acts or offenses during armed conflict. This book brings together the viewpoints of leading scholars and policy makers on the topic of exceptional courts and military commissions with a series of unique contributions setting out the current "state of the field." The book assesses the relationship between such courts and other intersecting and overlapping legal arenas including constitutional law, international law, international human rights law, and international humanitarian law. By examining the comparative patterns, similarities, and disjunctions arising from the use of such courts, this book also analyzes the political and legal challenges that the creation and operation of exceptional courts produces both within democratic states and for the international community.
- Addresses a highly topical and politically controversial issue.
- Has a strong representation of authors from multiple countries and legal systems.
- Has a valuable contribution to make to policy debates in democratic states concerned with managing terrorism challenges.
Professor Krishnan's contribution, co-written with Viplav Sharma, is titled "Exceptional or Not? An Examination of India's Special Courts in the National Security Context."
ISBN
9781107009219 (hb.), 9781107401686 (pb.), 9781107453579 (ebook)
Publisher
Cambridge University Press
Keywords
Terrorism-Prevention-Law and legislation, Courts of special jurisdiction, Military courts, Terrorism-Prevention-Law and legislation-United States, Military courts-United States
Disciplines
Courts | Law | Military, War, and Peace
Recommended Citation
Krishnan, Jayanth K., "Guantánamo and Beyond : Exceptional Courts and Military Commissions in Comparative Perspective (edited by Fionnuala Ní Aoláin and Oren Gross)" (2013). Books by Maurer Faculty. 46.
https://www.repository.law.indiana.edu/facbooks/46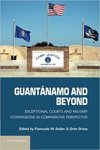 COinS