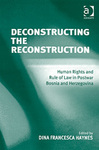 Title
Deconstructing the Reconstruction Human Rights and Rule of Law in Postwar Bosnia and Herzegovina (edited by Dina Francesca Haynes)
Description
Bringing together a range of contributors from multiple countries, this interdisciplinary volume offers a unique field view of the rule of law and human rights reform in the reconciliation and reconstruction process. The contributors all worked in Bosnia and Herzegovina during the ten years after the Dayton Peace Accords were signed; here they pause to analyze and critique the work they did.

The contributors offer insights from within a variety of international organizations, including the Office of the High Representative, the Organization for Security and Cooperation and Europe, and the United Nations. Allowing those who were in the field to identify, discuss and reflect upon the programmes and policies, the collection reveals how the programmes were created, what laws they were pursuant to, and what alternatives were rejected and why. The authors not only assess both the positive and negative aspects and outcomes of their work, but also comment on lessons learned for future post-conflict reconstruction scenarios.
Professor Waters' contribution is titled "Assuming Bosnia: Taking the Polity Seriously in Ethnically Divided Societies."
Keywords
Law-Bosnia and Herzegovina, Human rights-Bosnia and Herzegovina, Yugoslav War 1991-1995, Law and legislation-Bosnia and Herzegovina, Postwar reconstruction-Bosnia and Herzegovina
Disciplines
Human Rights Law | International Law | Law | Military, War, and Peace
Recommended Citation
Waters, Timothy W., "Deconstructing the Reconstruction Human Rights and Rule of Law in Postwar Bosnia and Herzegovina (edited by Dina Francesca Haynes)" (2008). Books by Maurer Faculty. 63.
https://www.repository.law.indiana.edu/facbooks/63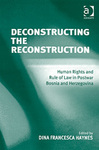 COinS