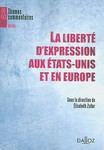 Title
La Liberté d'Expression aux États-Unis et en Europe (edited by Élisabeth Zoller)
Description
Pouvoir dire librement ce que l'on pense, faire valoir son point de vue, défendre ses opinions, communiquer ses idées, sans crainte pour sa vie, sa liberté ou ses biens, est un bien précieux que les États-Unis et l'Europe partagent en commun. Les synergies entre les deux continents sont nombreuses en matière de liberté d'expression, mais il n'y a pas mimétisme ; chacun a ses particularités.

Le quatrième colloque du Centre de droit américain de l'Université Paris II (1819 janvier 2008) en fait un bilan approfondi et contrasté avec le concours d'universitaires américains et européens.
Edited by Maurer Visting Professor of Law Élisabeth Zoller. Professor Zoller also wrote the chapter "La liberté d'expression des fonctionnaires en uniforme aux Etats-Unis."
Professor Jeannie Bell, Maurer School of Law, wrote the chapter, "Pour faire barrage à ceux qui n'ont pas cœur: expressions racistes et droits des minorités."
Professor Susan H. Williams, Maurer School of Law, wrote the chapter, "Theorie Feministe et Liberte d'Expression."
Keywords
Freedom of Speech-United States, Freedom of Expression-France
Disciplines
European Law | First Amendment | Law
Recommended Citation
Zoller, Elisabeth; Bell, Jeannine; and Williams, Susan H., "La Liberté d'Expression aux États-Unis et en Europe (edited by Élisabeth Zoller)" (2008). Books by Maurer Faculty. 68.
https://www.repository.law.indiana.edu/facbooks/68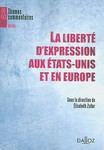 COinS