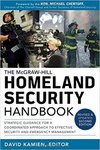 Title
McGraw-Hill Homeland Security Handbook: Strategic Guidance for a Coordinated Approach to Effective Security and Emergency Management, Second Edition (edited by David G. Kamien)
Description
Featuring a foreword by Michael Chertoff, former Secretary of Homeland Security, The McGraw-Hill Homeland Security Handbook, 2e is the one-stop guide for any professional or student involved in counterterrorism, homeland security, business continuity, or disaster risk management.
This indispensable book provides government officials, corporate risk managers, business and security executives, first responders, and all homeland security and emergency prepared-ness professionals with a wide-ranging and definitive overview of critical homeland security issues. The handbook addresses virtually every aspect of homeland security, including terrorism motivated by radical Islamist extremism; transportation and infrastructure protection; community and business resilience; intelligence and information; and the roles of business, academia, science, and the private sector in confronting terrorism and natural disasters.
Enriched with the insight and knowledge of renowned national and international experts--from senators and captains of industry to key figures in intelligence, military affairs, diplomacy, international organizations, and academia--this peerless guide offers prescriptive strategies and guidance to help security professionals more effectively manage the risk of terrorism and prepare for and respond to natural disasters.
The McGraw-Hill Homeland Security Handbook synthesizes the latest information with unmatched scope and detail and discusses what governments, businesses, and citizens must do to manage the risk of disasters and counter evolving threats.
Professor Cate's contribution, chapter 48, is titled "Government Data Mining."
Keywords
United States Department of Homeland Security, Terrorism, Terrorism Prevention, Emergency Management, Civil Defense, National Security, National Security Preparedness
Disciplines
Law | National Security Law
Recommended Citation
Cate, Fred H., "McGraw-Hill Homeland Security Handbook: Strategic Guidance for a Coordinated Approach to Effective Security and Emergency Management, Second Edition (edited by David G. Kamien)" (2012). Books by Maurer Faculty. 72.
https://www.repository.law.indiana.edu/facbooks/72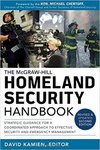 COinS