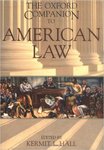 Title
The Oxford Companion to American Law (edited by Kermit L. Hall)
Description
The Oxford Companion to American Law takes as its starting point the insight that law is embedded in society, and that to understand American law one must necessarily ask questions about the relationship between it and the social order, now and in the past. The volume assumes that American law, in all its richness and complexity, cannot be understood in isolation, as simply the business of the Supreme Court, or as a list of common law doctrines. Hence, the volume takes seriously issues involving laws role in structuring decisions about governance, the significance of state and local law and legal institutions, and the place of American law in a comparative international perspective. Nearly 500 entries are included, written by over 300 expert contributors.
Intended for the working lawyer or judge, the high school student working on a term paper, or the general adult reader interested in the topic, the Companion is the authoritative reference work on the subject of American law.
Professor Conrad's contribution is titled "Citizenship."
Publisher
Oxford University Press
Keywords
Law, United States, Encyclopedias
Recommended Citation
Conrad, Stephen A., "The Oxford Companion to American Law (edited by Kermit L. Hall)" (2002). Books by Maurer Faculty. 97.
https://www.repository.law.indiana.edu/facbooks/97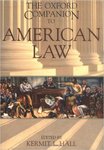 COinS