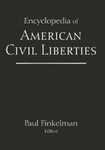 Title
Encyclopedia of American Civil Liberties (edited by Paul Finkelman)
Description
This Encyclopedia on American history and law is the first devoted to examining the issues of civil liberties and their relevance to major current events while providing a historical context and a philosophical discussion of the evolution of civil liberties.
Coverage includes the traditional civil liberties: freedom of speech, press, religion, assembly, and petition. In addition, it also covers concerns such as privacy, the rights of the accused, and national security. Alphabetically organized for ease of access, the articles range in length from 250 words for a brief biography to 5,000 words for in-depth analyses.
The Encyclopedia of American Civil Liberties is an essential reference for students and researchers as well as for the general reader to help better understand the world we live in today.
Professor Conkle's entries are titled "Moment of Silence Statutes," "Wallace v. Jaffree," and "Witters v. Washington Department of Services for the Blind."
Professor Sanders' entries are titled "Branzburg v. Hayes, Civil Liberties in Modern Political and Legal Philosophy" and "Papachristou v.s City of Jacksonville."
Keywords
Civil Rights-United States-Cases, Civil Rights-United States-Encyclopedias
Disciplines
Civil Rights and Discrimination | Law
Recommended Citation
Conkle, Daniel O. and Sanders, Steve, "Encyclopedia of American Civil Liberties (edited by Paul Finkelman)" (2006). Books by Maurer Faculty. 98.
https://www.repository.law.indiana.edu/facbooks/98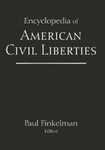 COinS