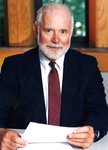 Title
Frederick Thomas Schornhorst
Description
Frederick Thomas Schornhorst (Tom) was born in Waverly, Iowa, on November 18th, 1934. Shornhorst served as a pilot in the United States Navy and graduated from the George Washington School of Law in 1963. After spending three years in private practice in Washington, D.C., he joined the faculty of the Indiana University Maurer School of Law in 1966.
Schornhorst quickly developed a reputation for a stern but inspiring teaching methodology. He was known for his unique "fire in the belly" style of teaching that could be intimidating, but inspire in students a sense of passion for those wronged by the justice system, or worse yet, those who never had a voice in the process at all. Schornhorst retired from the Maurer faculty in 1998, but returned regularly to work on pro bono cases. Former Dean and Roscoe C. O'Byrne Professor of Law Fred Aman called Schornhorst "a great and revered teacher who instilled a deep sense of professionalism and compassion in students. Compassion in the sense of realizing there were lots of people who needed representation who might not get it at a high level, and professionalism in the sense he was a strict task master. Students knew they really had to be on their best game with him."
In 1970, a young Indiana University student was arrested during a campus Vietnam War protest, just a few hundred feet from the law school. Schornhorst and colleague Pat Baude — another legend from the Law School faculty — quickly took up the case. It went all the way to the U.S. Supreme Court, and Schornhorst and Baude won the reversal of their client's conviction. That case – Hess v. Indiana (414 U.S. 105) – is still taught in law schools today, including at Maurer. It is hard to imagine a better legacy for a professor of law.
Upon his retirement, Schornhorst not only continued to work on pro bono cases, but also joined (in 2008) the faculty of the University of Mississippi School Of Law. He died in Oxford, Mississippi, on March 30th, 2015.
Keywords
Indiana University Maurer School of Law Faculty
Disciplines
Law | Legal Biography | Legal Education | Legal Profession
Files
Download Memorial Resolution (Bloomington Faculty Council) (91 KB)
Recommended Citation
"Frederick Thomas Schornhorst" (1934). Former Faculty. 1.
https://www.repository.law.indiana.edu/formerfaculty/1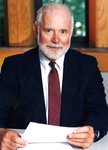 COinS