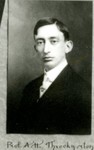 Title
Archibald Hall Throckmorton
Description
Archibald Hall Throckmorton was born on March 28, 1876, in Loudoun County, Virginia. He received a Bachelor of Arts from Roanoke College in 1896 and a Master of Arts from Princeton University in 1897. In 1900, he received his Law degree from Washington and Lee University in Lexington, Virginia, the same year he was admitted to the Bar of Virginia.
Throckmorton served as Dean of the Law School at the Centre College (Danville, Kentucky) Law School from 1902 until 1911, the year he came to the Indiana University School of Law. He taught at Indiana until 1914, at which time he joined the faculty of the Western Reserve University Law School. He remained at Western until his death in 1938.
Throckmorton was the author of three classic West Publishing Hornbooks – Illustrated Cases on Contracts, Illustrative Cases on Evidence and Illustrative Cases on Equity Jurisprudence, all first published in 1913. In the 1920s he compiled the state of Ohio's standard annotated code (The General Code of the State of Ohio) and the casebook Cases on Code Pleading.
Keywords
Indiana University Maurer School of Law Faculty
Disciplines
Law | Legal Biography | Legal Education | Legal Profession
Files
Recommended Citation
"Archibald Hall Throckmorton" (1876). Former Faculty. 2.
https://www.repository.law.indiana.edu/formerfaculty/2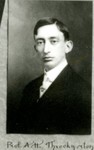 COinS