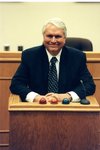 Title
Patrick Louis Baude
Description
Pat Baude was born on April 7, 1943 in Independence, Kansas. He grew up in Topeka. He received his B.A. (1964) in economics and history and his J.D. (1966) from the University of Kansas, where he graduated first in his class and was editor-in-chief of the Kansas Law Review. Following graduation, he joined Foley & Lardner in Milwaukee. After 18 months of law practice, Baude accepted a graduate fellowship at Harvard Law School, where he received an LL.M in International Law (1968). He then decided to pursue a career in academia, and joined the Indiana University School of Law faculty in 1968. Although he retired in 2008, he continued to teach up to the time of his death in 2011.
Baude won numerous awards for his teaching, including the university's Ulysses G. Weatherly Distinguished Teaching Award in 1973, the Law School's Gavel Award in 1980 and 2011, the Wallace Teaching Award in 1990, the Trustees Teaching Award in 1997, and the Law School's lifetime teaching award in 2008. From 2001, until his death, Baude held the Ralph F. Fuchs Professorship of Law and Public Service.
When, in 1970, a young Indiana University student was arrested during a campus Vietnam War protest, just a few hundred feet from the law school, Baude and his colleague Tom Schornhorst, quickly took up the case. It went all the way to the U.S. Supreme Court, with Baude and Schornhorst winning the reversal of their client's conviction. That case – Hess v. Indiana (414 U.S. 105) – is still taught in law schools today, including at Maurer. It is hard to imagine a better legacy for a professor of law.
An active scholar, Baude contributed articles and book chapters on a wide range of topics. His book, Judicial Jurisdiction: A Reference Guide to the United States Constitution examined the relationship between the power of constitutional review and the rule of law in the United States. In addition to his scholarly writings, Baude wrote a monthly wine column in Bloom Magazine. A collection of his wine related writings was published as: The Wit & Wisdom of Patrick Baude: Exploring the Good Life in Bloomington (Charleston, SC: American Palate, 2012)
Keywords
Indiana University Maurer School of Law Faculty
Disciplines
Constitutional Law | Law | Legal Biography | Legal Education | Legal Profession
Files
Download Memorial Resolution (Bloomington Faculty Council) (96 KB)
Recommended Citation
"Patrick Louis Baude" (1943). Former Faculty. 21.
https://www.repository.law.indiana.edu/formerfaculty/21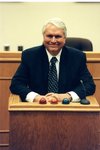 COinS