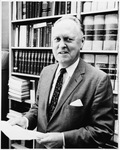 Title
Frederick Reed Dickerson
Description
F. Reed Dickerson was born in Chicago, Illinois, on November 11, 1909. He received his undergraduate degree (A.B.) from Williams College in 1931. He received his LL.B. from the Harvard Law School in 1934. Dickerson also earned a Masters of Law (1939) and a Doctor of Juridical Science (1950) from Columbia University. He practiced law in Boston and Chicago before teaching at the law schools of Washington University (1939-40) and the University of Pittsburgh (1940-42). During World War II, Dickerson became an attorney with the Office of Price Administration (1942-47) and then joined the Office of the Legislative Counsel of the U.S. House of Representatives (1947-49). He finished his employment in the federal government by serving as the Deputy Assistant General Counsel of the U. S. Department of Defense (1949-1958). For his defense related work, Dickerson received the Distinguished Civilian Service Award, the highest honor given by the military to a civilian.
In 1958 Dickerson joined the faculty of the Indiana University School of Law. While concentrating on his special areas of interest – legislation, legal drafting, and products liability, Professor Dickerson developed a reputation as an international expert in the field of legislative writing. A prolific author, Dickerson came to be known at the "dean of American Legislative Drafting" following the publication of such seminal works as The Fundamentals of Legal Drafting (1965), The Interpretation and Application of Statutes and Cases (1975), and Materials on Legislation (1981). In addition to his teaching and research, Professor Dickerson spent 22 years as an Indiana delegate to the National Conference of Commissioners on Uniform State Laws, making a major contribution to the substance and drafting of uniform laws. He was often called upon to lend his expertise to foreign governments as well and enjoyed a long-lasting relationship with the UK Parliamentary Counsel Office.
Another area of interest for Dickerson was "his first love and avocation" – music. Although he gave up any ideas of making a living playing music when he entered law school, Dickerson continued to play trumpet and could often be found playing with a group of IU professors known as the "Faculty Five." Being Dickerson, he also wrote jazz related articles for such publications as, Harpers, Esquire, and Downbeat.
While Professor Dickerson formally retired in 1980, he continued teaching and frequently traveled for speaking and consulting engagements for many years. Reed Dickerson died on June 9, 1991 in Bloomington, Indiana.
Keywords
Indiana University Maurer School of Law Faculty
Disciplines
Law | Legal Biography | Legal Education | Legal Profession
Files
Download F. Reed Dickerson, by Maurice J. Holland and Harry Pratter, in To Honor Retiring Faculty, 1980 (125 KB)
Recommended Citation
"Frederick Reed Dickerson" (1909). Former Faculty. 25.
https://www.repository.law.indiana.edu/formerfaculty/25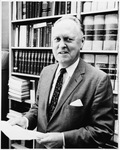 COinS