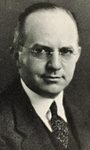 Title
James Jaquess Robinson
Description
James Jaquess Robinson was born on July 14, 1893 in the small Gibson County, Indiana, town of Owensville. He attended Indiana University, serving as captain of the cross-country team, and graduating with honors in 1914. He then entered Harvard Law School earning his law degree in 1919. He returned to Gibson County and practiced law in Princeton, Indiana until 1924.
In 1924, Robinson joined the law faculty at Indiana University, Bloomington. During his time on the law faculty, he earned his doctorate in law from Harvard (1931), and in 1934 he was instrumental in the establishment of the IU Institute of Criminal Law Administration. In 1941, he left Bloomington for Washington D.C. to accept a 3-year assignment as a reporter on the Advisory Committee on Federal Laws of Criminal Procedure for the U.S. Supreme Court. From 1944 to 1950, he served the director of the Navy Division and deputy director of the United States War Crimes Office. In this capacity, he served on the International Prosecution Section of the International Military Tribunal for the Far East, helping to prosecute Japanese war criminals. At the conclusion of the Tribunal, he returned to the United States to teach law at George Washington University and serve as a legislative attorney with the Library of Congress.
In 1954, Robinson went to the newly created nation of Libya to help set up its judicial system. This led to his appointment to the Libyan Supreme Court, serving for 15 years and having the distinction of being the only American to serve on another country's Supreme Court. In 1969, he retired and returned to the United States. In 1972, Indiana University awarded him the Distinguished Alumni Service Award. The School of Law continues to honor Robinson with the Hon. James J. Robinson International Law Fellowship Fund.
James Robinson died on May 22, 1980 in Fairfax County, Virginia. He was interred in the Owensville Cemetery in his hometown of Owensville, Indiana. His wife of 59 years, Florence Robinson, died in 1991 and was buried beside him.
Keywords
Indiana University Maurer School of Law Faculty, Libyan Supreme Court, International Military Tribunal for the Far East
Disciplines
Criminal Law | International Law | Law | Legal Biography | Legal Education | Legal Profession | Military, War, and Peace
Recommended Citation
"James Jaquess Robinson" (1893). Former Faculty. 28.
https://www.repository.law.indiana.edu/formerfaculty/28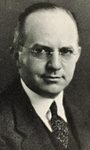 COinS