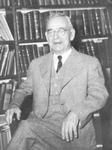 Title
Warren Abner Seavey
Description
Warren Abner Seavey was born on August 14, 1880 in Boston, Massachusetts. He attended Harvard University, receiving his B.A. in 1902 and his LL.B. in 1904. He then practiced law in Boston for two years. In 1906, he began his teaching career as a Professor of Law at Imperial Pei Yang University in Tientsin, China. In 1911, he returned to the United States and his alma mater as a lecturer at Harvard Law School. After one year at Harvard, he taught for two years at Oklahoma State University and then for two years at Tulane University. In 1916, he joined the law faculty at Indiana University, Bloomington. While at Indiana, he was commissioned an infantry captain in the U.S. Army, directing the American Expeditionary Forces College of Law in Beaune, France during World War 1.
In 1920, Seavey left Indiana to become dean at the University of Nebraska College of Law. While at Nebraska, Seavey earned his Doctor of Laws. After six years as dean at Nebraska, he then joined the faculty at the University of Pennsylvania for one year, and then in 1927 he joined the faculty at Harvard Law School, where he taught and served until his retirement in 1955. While on the faculty at Harvard, Seavey earned a second Doctor of Laws from St. Johns University in 1947. He was an authority on the law of torts, agency, equity, judgments, and restitution, and due to his extensive worldwide travel, he was recognized as an authority on international affairs. He had a number of letters published by the New York Times concerning issues leading up to and during World War 2. He also served as the president of the Association for American Law Schools in 1947.
Warren Seavey died at his home in Weston, Massachusetts on January 18, 1966. He was 85 years old.
Keywords
Indiana University Maurer School of Law Faculty, Harvard University School of Law, U.S. Army
Disciplines
Law | Legal Biography | Legal Education | Legal Profession
Files
Download New York Times obituary, 1/19/1966 (48 KB)
Recommended Citation
"Warren Abner Seavey" (1880). Former Faculty. 30.
https://www.repository.law.indiana.edu/formerfaculty/30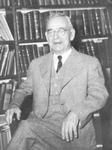 COinS