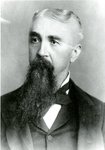 Title
Ambrose Bolivar Carlton
Description
Ambrose Bolivar Carlton was born in Bedford, Indiana, on December 18, 1825. His education was highlighted by private instruction from the legendary Hoosier lawyer/politician/Secretary of the Navy, Richard Wigginton Thompson. Carlton served in the U.S. Army (1846-47) during the Mexican-American War, before returning to Indiana and enrolling at Indiana University. He graduated from the Law Department in 1849 with a LL.B. degree. After graduation, Carlton returned to his hometown to open up a law office. In addition to practicing law in Bedford, Carlton served as Prosecuting Attorney and Judge of the Common Pleas Court. Carlton returned to Bloomington in 1856 where he was appointed Professor of Law Pro Tem, for the 1856-57 academic year, while James Hughes took a one-year leave of absence.
After teaching at IU, Ambrose would go on to have a long career in the law as an attorney in private practice, as a judge in various courts, and as a politician (including service in the Indiana House of Representatives in 1877). Despite his strong connection and service to the state of Indiana, Carlton's name is perhaps most associated with the state of Utah. In 1881, President Chester Arthur appointed Carlton to the U.S. Commission for Utah. The controversial (at least in Utah) commission imposed registration requirements which prohibited parties of plural marriage from voting. Reappointed to the commission six times, Carlton and his family spent his entire commission tenure living in Utah.
Carlton wrote a book about the work of the commission entitled, The Wonderlands of the Wild West: with Sketches of the Mormons (1891). He also wrote the legal treatise, The Law of Homicide (1882). Carlton returned to Terre Haute, Indiana after his time in Utah. He died there on September 5, 1901.
Keywords
Indiana University Maurer School of Law Faculty, United States Commission for Utah
Disciplines
Law | Legal Biography | Legal Education | Legal Profession
Files
Recommended Citation
"Ambrose Bolivar Carlton" (1825). Former Faculty. 34.
https://www.repository.law.indiana.edu/formerfaculty/34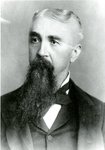 COinS