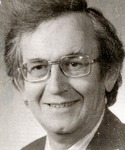 Description
Dan Whitaker Hopson was born on September 23, 1930 in Phillipsburg, Kansas. He grew up in Phillipsburg, and then enrolled at the University of Kansas. He earned both his A.B (1951) and his LL.B. (1953) from the University of Kansas. He then attended Yale University, receiving his LL.M. in 1954. During the 1954-1955 academic year, he was a Rotary Fellow at Cambridge University in Cambridge, England. Returning to the U.S., he joined the faculty of the University of Kansas Law School. During his tenure at Kansas, he was the Assistant Dean from 1957 to 1959. In 1967, he joined the faculty at the Indiana University, Bloomington School of Law. He spent the next 13 years at Indiana, including time as the Associate Dean of Faculties and as Director of the Center for the Study of Legal Policy Relating to Children. In 1980, he left Indiana to become the Dean and Professor of Law at the Southern Illinois University School of Law.
Professor Hopson was just the second individual to serve as Dean at Southern Illinois School of Law. During his time as Dean, the Law School moved into a new building and increased the faculty size. Professor Hopson's research interests included family law, with a special interest in juvenile law. During the final year of his life, he worked to examine over 65 bills in the Illinois Legislature related to juvenile law, making comments and recommendations. He also worked on the proposed recodification of the Illinois Juvenile Justice Act. In addition, he was a proud member of the Sons of the American Revolution, having proven his descent from Revolutionary War soldier Alverius Hopson.
Dan Hopson died of cancer on June 16, 1985 in St. Louis, Missouri.
Keywords
Indiana University Maurer School of Law Faculty, Southern Illinois University School of Law Dean, University of Kansas School of Law Faculty
Disciplines
Juvenile Law | Law | Legal Biography | Legal Education | Legal Profession
Recommended Citation
"Dan W. Hopson" (1930). Former Faculty. 37.
https://www.repository.law.indiana.edu/formerfaculty/37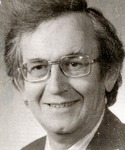 COinS