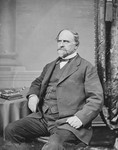 Description
William Tod Otto was born in Philadelphia, Pennsylvania, on January 19, 1816. Otto received both his bachelor's degree (A.B., 1833) and his master's degree (A.M., 1836) from the University of Pennsylvania. In Philadelphia, he read law with noted attorney and politician, Joseph Ingersoll. Otto then moved to Brownstown, Indiana and began practicing law. In 1844, he became Judge of Indiana's Second Circuit Court, a position he held until 1852. Concurrently, he served as a professor at Indiana University's Department of Law (1847-1852). Otto was just the second professor of Law at Indiana. The school presented him a LL.D. degree when he retired from teaching. Upon leaving the bench and academia, Otto moved to New Albany and returned to private practice.
Otto ran unsuccessfully for the Attorney General of Indiana in 1858. At an unknown date, Otto became acquainted with Abraham Lincoln and headed the Indiana delegation to the 1860 Republican convention. As such, he is often credited with delivering Indiana for Lincoln. Once elected, Lincoln appointed him Assistant Secretary of the Interior, where he played a leading role in the country's policies towards Native Americans. Otto is said to have been among those individuals who were at the deathbed of Lincoln. He remained in the Interior Department until 1871, when he began his service as arbitrator for claims against Spain from U.S. citizens in Cuba. He also served as a delegate to the Universal Postal Union congress in Lisbon, Portugal (1885).
Otto is, perhaps, best known as the eighth Reporter of Decisions of the Supreme Court of the United States, a position he held from 1875 until 1883 (v.91-v.107 United States Reports). His tenure as Reporter was the first in which the court's case volumes were not identified by the Reporter's name. Thus, Otto is often referred to as the "First Anonymous" Reporter.
William Tod Otto died in Philadelphia on November 7, 1905 at the age of 89.
Keywords
Indiana University Maurer School of Law Faculty, United States Supreme Court, Abraham Lincoln
Disciplines
Courts | Law | Legal Biography | Legal Education | Legal Profession
Files
Recommended Citation
"William Tod Otto" (1816). Former Faculty. 40.
https://www.repository.law.indiana.edu/formerfaculty/40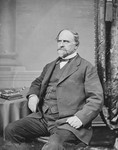 COinS