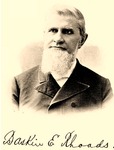 Description
Baskin Eply Rhoads was born in Coatesville, Pennsylvania, on May 1, 1834. When he was 2, his family moved to Indiana, settling first in Rockville and later in Waveland. His early education was at the Waveland Academy. In addition to his formal education, Rhoads was trained in the art of tanning. Eventually he attended and graduated (1860) Wabash College. Before and after college, Rhoads taught school in Montgomery, Vermillion, and Clinton counties. He also served as a Professor of Natural Science at the Clinton Institute (Vermillion County), as well as the Superintendent of the Rockville public schools. During this period (1860-1862) he was also studying law under Judge Samuel Maxwell of Park County.
Rhoads was admitted to the state bar in 1862 and quickly setup a law practice in Newport, Indiana. In 1864, Rhoads was chosen Representative of Vermillion County. Baskin Rhoads served just one term in the General Assembly, but he became known as a passionate advocate for public education. As a legislator, he was instrumental in the creation and drafting of the bill that led to the establishment of the Indiana State Normal School (Indiana State University) in Terre Haute. In 1868 he was elected Professor of Greek at Indiana University, but declined preferring to continue his law practice. That same year he was elected a Trustee of Indiana University, a position he accepted and held until 1872. While a Trustee, Rhoads joined the faculty of the Indiana University School of Law where he taught real property and contracts (1870-1877). He served as Vigo County superior court judge (1881-82) and as a member of the first board of trustees of Coates College of Women in Terre Haute.
In addition to his career as a educator and lawyer, Rhoads tinkered in science. In 1862 he unearthed a stone which contained a never before seen fossil. Upon examination by experts at the Smithsonian Institute, the fossil was named in his honor, Eupachyerinus Tubereulatas Rhoadsü
Baskin Eply Rhoads died on January 15, 1895 in Terre Haute, at the age of 60.
Keywords
Indiana University Maurer School of Law Faculty, Indiana University Trustees
Disciplines
Judges | Law | Legal Biography | Legal Education | Legal Profession
Recommended Citation
"Baskin Eply Rhoads" (1834). Former Faculty. 43.
https://www.repository.law.indiana.edu/formerfaculty/43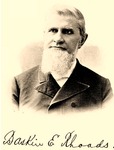 COinS