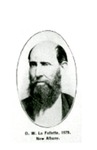 Title
David Walter LaFollette
Description
David W. LaFollette (sometimes spelled La Follette) was born in Floyd County, Indiana, on September 13, 1825. His childhood was spent on the family farm where he was born and in local public schools. His first career was a teacher, but in 1847, he began reading law with Judge W. A. Porter in Corydon. He then attended the Indiana University Law Department and graduated in 1849.
Little is known of the details of LaFollette's legal career, but what is known includes his positions as Prosecuting Attorney for the Court of Common Pleas in Corydon (1852), practicing attorney in New Albany with James Collins (1855), Judge of the Court of Common Pleas of Floyd County (1858), Attorney of New Albany, President of the Board of Public Education (New Albany), Prosecuting Attorney for the district of Floyd and Clark Counties (1872), and Professor of Law at Indiana University (1873-1874). After leaving the University, he returned to New Albany and opened a firm with Colonel W. W. Tuley (Lafollette & Tuley)
David Walter LaFollette died on March 21, 1888 at the age of 62. He is buried in Fairview Cemetery in New Albany.
Keywords
Indiana University Maurer School of Law Faculty, Maurer Alumni, Indiana Judges
Disciplines
Law | Legal Biography | Legal Education | Legal Profession
Files
Download LaFollette Obituary, Indianapolis News, March 22, 1888 (15.6 MB)
Recommended Citation
"David Walter LaFollette" (1825). Former Faculty. 49.
https://www.repository.law.indiana.edu/formerfaculty/49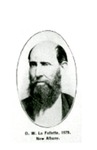 COinS