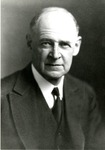 Description
Milo Jesse Bowman was born on July 1, 1874 in Madison, Indiana. He attended Hanover College, graduating in 1896, and then studied law at the Indianapolis Law School, earning his law degree in 1902. He practiced law in Indianapolis for several years while teaching at the Indianapolis College of Law. He was dean of the Valparaiso University Law School from 1909 to 1928, during which he also served for a short time as the interim President of the University. In 1928, he joined the faculty of the Indiana University School of Law, where he would remain for the rest of his life.
Professor Bowman professional life was one of "great distinction." Upon his death, the Indiana Law Journal published a tribute to his life and work. The Journal stated, "Few, if any, surpassed Mr. Bowman in legal scholarship. He read very widely and he taught almost every course in the curriculum. … Other legal scholars have won greater fame; few surpassed him in knowledge or wisdom. Other teachers enjoyed greater reputations; few equaled Mr. Bowman in the soundness of instruction, and none drew greater satisfaction from the work of the classroom."
Professor Bowman died on January 30, 1948 in Porter County, Indiana. He was interred in the Graceland Memorial Park in Valparaiso, Indiana.
Keywords
Indiana University Maurer School of Law Faculty, Valparaiso University School of Law Dean
Disciplines
Law | Legal Biography | Legal Education | Legal Profession
Recommended Citation
"Milo Jesse Bowman" (1874). Former Faculty. 59.
https://www.repository.law.indiana.edu/formerfaculty/59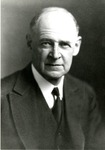 COinS