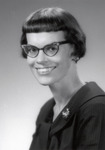 Title
Betty Virginia LeBus
Description
Betty Virginia LeBus was born in Bremerton, Washington on May 8, 1923. She attended the University of Washington in Seattle, where she received a B.S. in 1947, an LL.B. in 1948, and a B.A. in Library Science in 1949. She was one of the first graduates of the prestigious Law Librarian Program at the University of Washington.
Following graduation from law school, she was admitted to the bar in the State of Washington, and after receiving her library science degree, she served as assistant librarian at the University of Washington from 1948 to 1950.
In 1950, she accepted the position of Instructor of Law and Law Librarian at Indiana University, the only women then on the law faculty. In addition to being the administrator of the Law Library, she taught Legal Bibliography to all law students. She was instrumental in the planning of the Law Building completed in 1956, serving as the Law School's project manager throughout the planning and construction of the facility. In 1957, Indiana University granted her tenure, and in 1977, she was promoted to full Professor of Law. She was the first woman in the Law School to receive tenure and to hold professorial rank.
Betty LeBus was active in numerous law and library organizations, national, regional and local. She was active in the American Association of Law Libraries for over thirty years, serving on numerous committees and on the Executive Board from 1969 to 1972. She served for many years as a Law School Site Evaluator for the American Bar Association, Section of Legal Education and Admission to the Bar. In 1995, the Washington Bar Association made her an honorary life member.
A longtime leader of the Indiana Library Association, she was elected president in 1961, and was the chairperson of the Library Planning Committee and the Constitution and By-Laws Committee. She represented the ILA, serving as Indiana's Conference Chairman in coordinated activities with the Kentucky Library Association. In 1964, the Indiana Library Trustee Association named her the Librarian of the Year.
During her time as Law Librarian, the IU Law Library collection grew from 57,000 volumes to 194,000 volumes and the staff grew from two to nine full-time and over 30 student assistants. In 1977, the Law Library was one of the first in the country to introduce the faculty and students to computerized legal research.
After 28 years in 1978, she resigned her position at Indiana University and returned to Seattle to be with her elderly mother. She completed her career as Law Librarian first at the University of Wyoming and then at the University of Miami. Upon her retirement in 1984, she returned to Bloomington to reside in the Meadowood Retirement Community.
Betty LeBus died in Bloomington on August 24, 2003.
[Adapted from Betty Virginia LeBus obituary, published in the Bloomington Herald-Times on August 26, 2003.]
Keywords
Indiana University Maurer School of Law, Jerome Hall Law Library Director
Disciplines
Law | Law Librarianship | Legal Biography | Legal Education | Legal Profession | Library and Information Science
Recommended Citation
"Betty Virginia LeBus" (1923). Former Faculty. 64.
https://www.repository.law.indiana.edu/formerfaculty/64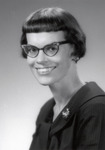 COinS