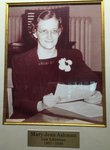 Description
Mary Jean Ashman was born in Osgood, Indiana on September 11, 1905. She attended Indiana University where she received her A.B. in 1927. In 1931, she was appointed to the position of Law Librarian for the Indiana University, Bloomington Law Library. While serving as law librarian, she began to take classes in the law school towards her law degree.
In 1949, Ashman left Indiana University to become the Law Library Director at the University of Chicago. She later served as the law librarian for the Railroad Retirement Board in Chicago, and in 1953, she became the Law Library Director at Washington University in St. Louis. Beginning in 1958, she resumed her work on her law degree by taking classes in the summer in Bloomington. In 1962, she completed her course work and received her law degree.
Jean Ashman retired from Washington University in 1975, and she moved to Indianapolis. She died in Bloomington on February 2, 1994 and was interred in the Spring Grove Cemetery in Cincinnati, Ohio.
Keywords
Indiana University Maurer School of Law faculty, Jerome Hall Law Library Director
Disciplines
Law | Legal Biography | Legal Education | Legal Profession | Library and Information Science
Recommended Citation
"Mary Jean Ashman" (1905). Former Faculty. 65.
https://www.repository.law.indiana.edu/formerfaculty/65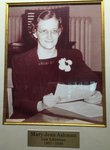 COinS