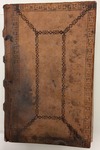 Files
Description
Handwritten journal of David McDonald who is recognized as the first Professor of Law at Indiana University. The journal is undated but contains a transcribed article from the Cincinnati Gazette dated April 17, 1865.
McDonald was born in Millersburg, Kentucky and moved to Indiana when he was 14, in 1817. He eventually became a school teacher in Washington, before meeting a local lawyer who encouraged him to study law. He was licensed to practice in the Circuit Courts in 1830. He served as a member of the Indiana Legislature (1833-34) as well as being elected judge of the 10th Circuit Court in 1841, before joining the University. After retiring in 1852 he was presented with an honorary LL.D. degree. He died August 25, 1869 and is buried at Crown Hill Cemetery in Indianapolis.
The journal paginated, indexed and divided into sections covering a wide variety of subjects.
Subjects covered in the journal:
Anecdotes and Sayings, p.1
Natural Law, p.2
The Beautiful and the Good, p.4
Spanish Absurdity, p.5
Harvard University, p.6
Muhammadan Dialog, p.6
Divisions of the Books of the Bible, p.8
The Septuagint, p.9
Books, p.11
Anger, p.15
Prayer, p.18
Jewish Laws, Tradition, p.28
Human Depravity, p.53
The Ancient Philosophies, p.58
Fourteen pages of names and years of the following rulers: Distinguished Sovereigns and their Eras of the Roman Empire, Roman Emperors, Eastern Roman Emperors, Frankish Sovereigns, French Sovereigns, Kings of England, Emperors of Germany, Kings of Scotland, Sovereigns of Spain, p.64
Peruvian Bark-Quinine, p.78
The Deductive and Inductive Philosophies, p.79
Loss of Life in the War of Rebellion of 1861, p.82
Monasticism, p.84
The Gypsies p.87
Abelard, p.88
Martyrs, p.90
Ebionism, p.91
Is Matter Eternal?, p.92
Prophecy, p.96
An Army Moving (An excerpt from an article from the Cincinnati Gazette from April 17, 1865), p.99
A Religion without a God, p.100
A Puzzle, p.102
Rambles among Words, p.104
The Celebrated Catholic Maxim, p.137
The Mariner's Compass, p.138
Woman, p.140
Curious Ecclesiastical Items, p.144
Sumptuary Laws, p.150
Theaters, p.152
Remarkable Facts Relating to the Occurrence in the Bible of the Names of the Deity-God and Lord-Elohim and Jehovah, p.154
Bible Names of the Deity, p.158
Resemblances between Stories Sacred and Profane, p.162
The Infinite Benevolence of the Deity, p.178
Human Sacrifices, p.187
Amazons, p.191
The Golden Rush, p.194
Fate and Predestination, p.196
Polytheism, p.202
The Essenes, p.218
Monotheism, p.222
Mahomet, p.224
Michael Servetus, p.226
The Test of Right and Wrong, p.251
Delicacy, p.258
Is the Existence of the Deity Provable by the Works of Natures, p.266
Vegetarians—The Buddhists, p.274
Superstition—Bigotry—Ignorance, p.276
Chronology, p.286
Fables and Fabulous Stories, p.298
Sacrifices, p.308
Jonathan Edwards, p.318
Anger, p.319
Resemblances between Sacred & Profane Stories, p.322
Handwritings, p.328
Wise Words, p.336
John Calvin, p.362
Martin Luther, p.374
Pythagoras, p.382
Unitarians, p.394
Apparent Death, p.400
The Catholic Trinity, p.322
Spiritualizing Scripture, p.425
Homer, p.427
Numbers of the Remaining Religions, p.429
Sacred Song, p.430
False Promises, p.448
Index, p.458
Keywords
David McDonald, Indiana University School of Law, Maurer School of Law, Professors, Deans, Indiana University, Journal
Disciplines
Judges | Jurisprudence | Law | Legal Education | Legal History | Legal Profession
Recommended Citation
McDonald, David, "Journal of David McDonald" (1865). Historic Documents. 11.
https://www.repository.law.indiana.edu/histdocs/11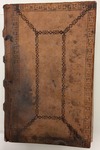 COinS