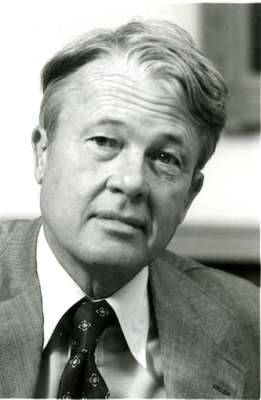 Val Nolan, Jr., (b. 1920; d. 2008) served as Acting Dean of the Indiana University School of Law twice; first in 1976 and again in 1980.
Born in Evansville, Indiana, Nolan's father was the U. S. Attorney for the Southern District of Indiana, while his mother was a noted children's author. After graduating from Indiana University (B.A. 1941) he served as a deputy U. S. Marshall and then as a member of the Secret Service on the White House detail protecting President Roosevelt. He served in the Navy during World War II, afterwards enrolling in the Indiana University School of Law (J.D. 1949). Upon graduation he joined the faculty and remained at Indiana until his retirement in 1985. In addition to his legal expertise, Nolan also became a world-renowned ornithologist and from 1965 until his retirement he held a joint appointment in the Law School and the Biology Department. Val Nolan, Jr., was inducted into the Indiana University Academy of Law Alumni Fellows in 1989.
For a complete list of Val Nolan, Jr.'s writings click here. Listed below are writings about Val Nolan, Jr., along with miscellaneous materials related to Nolan.
Writings about Dean Val Nolan Jr.
Misc. Materials related to Dean Val Nolan Jr.